Hobart High School Alumni Association, Inc.
BrickieFest Homecoming Picnic September 28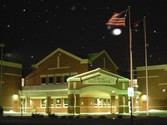 In Memory
Mark Wesley - Class Of 1977
OBITUARY FROM FORT WAYNE NEWSPAPERS, MAY 15, 2012:
MARK R. WESLEY, 53, passed away Sunday, May 13, 2012 at Parkview Hospital in Fort Wayne. Born in Hobart, Ind., he graduated from Hobart High School in 1977 and received a Bachelors degree in Marketing from Ball State University in 1981. He started his career as a cook and manager for area restaurants, as a salesman for Menu Meats and later worked for several years at the Disney Store as an Assistant Manager. He was a member of St. Peter's Lutheran Church and was very passionate about his faith. Mark enjoyed cooking and was an avid Mickey Mouse collector.
Surviving are his wife, Lisa C. Wesley of Fort Wayne; father, Richard E. (Barb) Wesley Yellville Ark.; mother, Marian R. Williams; mother-in-law, Anita Schroer; and sister, Renee E. (Donnie West, Fiance) Meier all of Ft. Wayne; step-sister, Blynda (Steve) Lawrence of Shiloh, Ill; step-brothers, Brian Baird of Turner, Mass, Russ (Lori) Williams of Mount Laurel, N.J., Timothy (Becky) Schroer of Brownsburg, Ind., David (Cindy) Schroer of Stamford, Conn., Peter Schroer of Kokomo and Nathan Schroer of Ft. Wayne; nine nieces and nephews; as well as several aunts, uncles, cousins and adopted nieces and nephews.
Service is 10:30 a.m., May 17, 2012 at St. Peter's Lutheran Church, 7710 E. State Blvd., Rev. Steven Ahlersmeyer officiating, with calling one hour prior. Visitation is 2 to 5 p.m. and 7 to 9 p.m. Wednesday, May 16, 2012 at D. O. McComb & Sons Maplewood Park Funeral Home, 4017 Maplecrest Road. Burial in Concordia Cemetery Gardens, Fort Wayne. Memorials may be made to the St. Peter's Lutheran Church music department. To sign the online guest book, go to www.mccombandsons.com.
This information was obtained from: http://www.legacy.com/obituaries/fortwayne/obituary.aspx?pid=157643058.