Hobart High School Alumni Association, Inc.
BrickieFest Homecoming Picnic September 28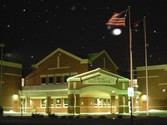 In Memory
Lawanda Pavy (Lightfoot) - Class Of 1952
OBITUARY FROM REES FUNERAL HOME WEBSITE:

La Wanda Lightfoot, age 77 a lifelong Lake Station resident passed away Saturday, March 31, 2012. She was born on October 4, 1934. She graduated from Hobart High School with the Class of 1952. She worked for Square Deal for 22 years until it closed. She then finished her career at the Dalton Corporation where she worked for 18 years. La Wanda was a loving and devoted wife, mother, sister, grandmother and friend. She loved traveling, bowling, shopping, Elvis, country music, and spending time with friends and family. She never missed Jeopardy or Wheel of Fortune. La Wanda is now our angel looking over us and she will be dearly missed.

She is survived by her husband of 55 years, Don, three sons, Don, Jim (Mary), and Bill, eight grandchildren, Crystal (Steve) Peek, Julie (Mark), Cheryl, Jenni, Bill, Rachel, DJ, and Bradley, four great-grandchildren, special brother, Donald Pavy, two brothers, two sisters, brother-in-law, Rev. Earl (Harriet) Lightfoot two special sisters-in-law, JoAnn and Judy Pavy, and many nieces and nephews.

She was preceded in death by her parents, James and Carmel Pavy, and 4 brothers, Dennis, Sonny, Bobby, and Jim Pavy.

Funeral services are Wednesday, April 4, 2012 at 11 a.m. at Rees Funeral Home, 600 West Old Ridge Road, Hobart with Rev. Earl Lightfoot officiating. Cremation will follow. Visitation is Tuesday, April 3, 2012 from 2 p.m. to 8 p.m. at Rees Funeral Home, Hobart Chapel. Call (219) 942-2109 or visit us online at www.Reesfuneralhomes.com.