Hobart High School Alumni Association, Inc.
BrickieFest Homecoming Picnic September 28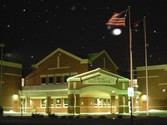 In Memory
Steve Roper - Class Of 1959
OBITUARY FROM REES FUNERAL HOME WEBSITE, JUNE 3, 2012:
Steve Roper, age 71 a lifetime Hobart resident passed away Saturday, June 2, 2012. He was born on March 6, 1941 to the late John "Pete" and Betty Roper. He served his country in the U.S. Army. John was an avid fisherman and hunter and a member of the Waterfowl USA.
He is survived by 2 sons, Scott (Angela) Roper of Brownsburg, IN; Matthew Roper of Hobart, IN; 4 grandchildren, Erin, Eli, Abby, and Gavin.
A memorial visitation for Steve will be held Friday, June 8, 2012 from 2 p.m. to 7 p.m. at Rees Funeral Home, 600 West old Ridge Road, Hobart. Cremation will take place with Rees Funeral Home and Cremation Service. Call (219) 942-2109 or visit us online at www.Reesfuneralhomes.com.
This information was obtained from: http://www.meaningfulfunerals.net/fh/obituaries/obituary.cfm?o_id=1497610&fh_id=12324.