Hobart High School Alumni Association, Inc.
The Official Website of the HHS Alumni Association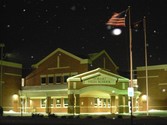 In Memory
Shirley Mumaugh VIEW PROFILE
OBITUARY FROM NW INDIANA TIMES, JANUARY 8, 2013:
Shirley A. Mumaugh, age 63, of Hobart passed away Sunday January 6, 2013 in her home. She was born April 24, 1949 in Indianapolis, IN to the late Jack N. and Mary Lou (Young) Mumaugh. Shirley graduated from Northwest High School in Indianapolis, IN in 1967. She then received her Bachelor of Science degree in 1971 and her Master of Science degree in 1972 from Indiana State University in Terre Haute, IN. Shirley has devoted her teaching career to the School City of Hobart. She has been a member of the English/Communications department at Hobart High School since her graduation from Indiana State University. She taught public speaking and English courses.
Shirley is survived by her baby sister, Jackie (Randall) Griffin of Greenfield; her nephew Bryan (Amy) Mumaugh of Crown Point; her nieces: Claire and Mae Griffin; and five great nieces and nephew. She was preceded in death by her parents and twin sister Sharon Mumaugh. Donations to Mumaugh Scholarship, 2211 East 10th St., Hobart, IN.
A Mass of Christian burial will be celebrated Wednesday January 9, 2013 beginning with 9:30 a.m. Prayers at Rees Funeral Home 600 W. Old Ridge Road and then to Assumption BVM Church 3530 Illinois Street, Hobart, IN 46342 at 10:00 a.m. with Father Lourdu Pasala officiating. Visitation will be Tuesday, January 8, 2013 from 4:00-8:00 p.m. with a 5:30 p.m. prayer service. For information please call 219-942-2109 or go online at www.ReesFuneralHomes.com
This information was obtained from: http://www.legacy.com/obituaries/nwitimes/obituary.aspx?pid=162216926.
Click here to see Shirley's last Profile entry.