Hobart High School Alumni Association, Inc.
The Official Website of the HHS Alumni Association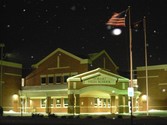 In Memory
Robert Low - Class Of 1941
?? OBITUARY FROM POST-TRIBUNE, SEPTEMBER 18, 2004:
Robert J. Low of Gladstone, Oregon, passed away on Monday, September 13, 2004. He was born November 6, 1922 in Gary and graduated from Hobart High School. Bob was a WWII Veteran, serving in U.S. Navy Air Corp. Vulcanaire program. He and his family moved from Hammond, Indiana to Gladstone Oregon in 1951. Robert is survived by his wife, Carol; Sons, Ronald (Susan), Robert (Lynda), and Russell: Daughter Judith (David) Creager; 7 grandchildren; 4 great grandchildren; Brothers William (Neva), Paul Muller (Sylvia); Sister, Barbara Teitge; several nieces, nephews and friends. Funeral services will be held on Monday, September 20, 2004 in Gladstone, Oregon. Please view the obituary to sign the Guest Book at www.post-trib.com
This information was obtained from: http://legacy.post-trib.com/obituaries/posttribune/obituary.aspx?n=Robert-Low&pid=2623429.