Hobart High School Alumni Association, Inc.
BrickieFest Homecoming Picnic September 28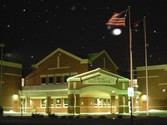 In Memory
Emery Elsworth Gant - Class Of 1944
OBITUARY FROM REES FUNERAL HOME WEBSITE, MAY 12, 2012:
Emery Elsworth Gant, age 86, a longtime resident of Hebron, passed away on Friday, May 11, 2012. He was born on September 21, 1925 in Hobart, the son of Oba and Lenora Ruth Gant. Emery was a 1944 graduate of Hobart High School. He was married to Daphne Beerbower on June 23, 1946 in Hobart. Emery worked as a salesman and grocer and helped manage Gant's Supermarket in Hebron and Gant's Country Market in Chesterton. Emery was a member of the Lions Club, the Moose, and the Eagles. He enjoyed cards, fishing, and had been a pilot. He was a wonderful husband, father, grandfather, great-grandfather, and a friend to all.

Emery in survived by his loving family: sons Steve (Cindy) Gant, Durand, Illinois, Bruce (Lynn) Gant, Dowagiac, Michigan, David (Marie) Gant, Portage, daughter Kim (Bob) Hager, Valparaiso, grandchildren Stephanie (Joe) Rohl, Heather (Dustin) Dwyer, Jason Gant, Amanda (John) Ziegler, Adam Hager, Andy Stearns, David Gant, Sharron (Rich) Cummins, Shannon Strickland, and Donald DeBusk, nine great-grandchildren, and other loving family and dear friends. Emery was preceded in death by his parents and his sisters Evelyn and Lenora.

A visitation for Emery Gant will be held from 4:00 pm to 8:00 pm on Friday, May 18, 2012 at Rees Funeral Home – Winfield Chapel, 10909 Randolph Street, Winfield. A funeral service for Emery Gant will be held at 10:00 am on Saturday, May 19, 2012 at Rees Funeral Home – Winfield Chapel. Burial will be at Hebron Cemetery in Hebron. For further information please call Rees Funeral Home at (219) 661-2600 or online at www.reesfuneralhomes.com.
This information was obtained from: http://www.meaningfulfunerals.net/fh/obituaries/obituary.cfm?o_id=1479463&fh_id=12324.