Hobart High School Alumni Association, Inc.
BrickieFest Homecoming Picnic September 28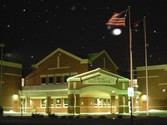 In Memory
Howard Arnold - Class Of 1948
FROM THE SHADOW MOUNTAIN MORTUARY (PHOENIX, ARIZONA) WEBSITE, MAY 17, 2012:
Howard R. Arnold (Arnie) was born August, 1930 in Gary Indiana. He was a resident of Phoenix, Arizona and 81 at the time of his death on May 15, 2012. Howard graduated from Hobart High School. He lived in Portage Indiana, where he raised a family with his wife, Ruth, and served the community of Portage as a City Councilman. He was the owner-manager of a mobile home park before he relocated moving west with his family in 1972 to Durango, Colorado. During his time in Durango he enjoyed the great outdoors, hunting, fishing and sold Real Estate. In 1993 he retired and moved to Phoenix Arizona where he met his loving partner Joyce Arnone.

Howard is preceded in death by his parents and many of his 9 brothers and sisters. He is survived by his brother Donald Arnold (Audry), his partner Joyce Arnone of 20 years and his children, Cynthia Barker-McKinney (Alan McKinney), Stephen (Randi Light), Michael (Toni), Philip (Joanne). He was known as Grandpa Howard to his loving grand-children Jacob & Luke Barker, Angela, Brandon & Brett Arnold, Jonathan & Brant Arnold. Howard enjoyed time with his newest Great-grand-children Brooke & Ethan Arnold. Howard's closest friends were his lifelong friend Elmer Lenburg Jr. and Jack Teitge. He will be missed by his dog Sedona who never left his side.

Howard was blessed with a blended family that cared, comforted and loved him as their own. His love and gratitude reaches out to those that will miss his loving heart, Stephanie Mongovan, Chris Hargreaves, Stacie Sundberg, Alan Aymami, Aaron Aymami. Grand-children include Nicholas Sundberg, Brendon (Jessica Brewer) & Ryan, also their father Dave Mongovan, Caitlyn & Sarah Aymami. Great Grand-Children Nathan, Kaia & Rhilyn Mongovan, Johnny Mason.

Although Howard had many careers and sales awards over the years that supported his family, his true passion and God-given talent was as an artisan/craftsman. Howard has left a trail of paintings and objects crafted from wood including furniture, toys, vases, jewelry boxes, and most importantly a legacy of love for artistic expression which was first encouraged by a second grade teacher. The family requests instead of flowers, donations in his name can be made to Quail Run Elementary School's Art department for the encouragement of artistic expression. (Quail Run Elementary School, 3303 E. Utopia, Phoenix, AZ 35050, 602-449-4400). Also donations can be made to the American Cancer Society .

Howard loved this poem:

I'd like the memory of me to be a happy one.
I'd like to leave an after glow of smiles when life is done.
I'd like to leave an echo whispering softly down the ways,
of happy times and laughing times and bright and sunny days.
I'd like the tears of those who grieve,
to dry before the sun of happy memories that I leave
when my life here is done.
This information was obtained from: http://obits.dignitymemorial.com/dignity-memorial/obituary.aspx?n=Howard-Arnold&lc=2412&pid=157672068&mid=5107617.