Hobart High School Alumni Association, Inc.
The Official Website of the HHS Alumni Association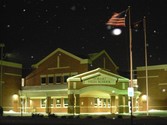 In Memory
Ruth Rohrbach (Staff)
OBITUARY FROM NW INDIANA TIMES WEBSITE, JUNE 5, 2012:
Ruth Rohrbach, age 93, of Merrillville, formerly of Gary and Hobart, passed away Monday, June 4, 2012. She was a 1937 graduate of Horace Mann High School, a retired employee of Hobart City Schools and a former member of the First United Church of Hobart.
Ruth was preceded in death by her husband, Jonas Rohrbach; parents: Harley and Elizabeth Gross; brother Charles Gross; and sister, Jane Moderhack. She is survived by daughter, Beth Rohrback of Terre Haute; nephew, Richard (Betty) Gross of Hobart; and niece Nancy (Gerald) Collins of Carmel, IN.
There will be no services. Cremation by Burns Funeral Home, Hobart. www.burnsfuneral.com
This information was obtained from: http://www.legacy.com/obituaries/nwitimes/obituary.aspx?pid=157934669.