Hobart High School Alumni Association, Inc.
The Official Website of the HHS Alumni Association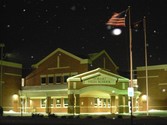 In Memory
Joseph (Joe) Anders - Class Of 1937
OBITUARY FROM POST-TRIBUNE, JANUARY 30, 2011:
Anders, Joseph E. age 92, of Hobart, passed away Saturday, January 29, 2011. Joseph was born on November 22, 1918 at 411 Main Street, Hobart, to Emerson and Anna Anders. He was a truck driver for Teamsters Local 142 and was employed by Luke Oil. Joseph was a projectionist for the Art Theatre since 1941 and was also an avid picture taker. He will be missed dearly.
Joseph is survived by his wife of over 53 years, Karen (nee Anderson); son, Joseph (Lourdes) Anders of Hobart; daughter, Debby (Robert) Evans of Hobart; grandchildren, Justin Evans and Lindsay Evans of Hobart; brothers-in-law, Randy Anderson of WA, Dennis (Lucille) Anderson of Louisville, KY, Dan (Ruth Langfield) Soria of Hobart; nephew, Ervin Carstensen of Hobart; niece, Shirley Price of Hobart; nephew, Alan Larson of DeMotte; numerous nieces, nephews, and other loving family and friends. He was preceded in death by his parents, 3 brothers, Ervin, Roy and Cornelius Carstensen; 2 sisters, Emma Larson and Ellenora Carstensen.
A funeral service for Joseph will be Wednesday, February 2, 2011 at 10:00 a.m. at Rees Funeral Home, 600 W. Old Ridge, Hobart. Burial will follow at Graceland Cemetery in Valparaiso. Visitation will be Tuesday, February 1, 2011 from 2-8 p.m. at Rees Funeral Home, Hobart, (219) 942-2109 or www.reesfuneralhomes.com.