Hobart High School Alumni Association, Inc.
The Official Website of the HHS Alumni Association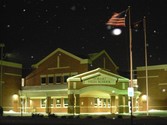 In Memory
Cindy Gaedtke (Kurpis) - Class Of 1969
OBITUARY FROM REES FUNERAL HOME WEBSITE, MARCH 25, 2016:
CYNTHIA K. KURPIS, age 65, of Hobart, passed away Sunday, March 20, 2016 at St. Mary Medical Center. She was born in Gary on January 7, 1951. Cynthia was a graduate of Hobart High School Class of 1969 and worked at Indiana University Northwest for almost 40 years. Cynthia was an excellent stained glass artist, but above all she was an awesome mom. She will be remembered for devoting her life to her son, Daniel, and taking him to all of his hockey, little league, basketball and swimming practices and games.
Cynthia is survived by her son, Daniel Kurpis of Hobart; brother, Jerry (Debbie) Gaedtke of Indianapolis; sister, Denise (Skip) White of Valparaiso; special nephew, Matthew; and special friend, Nancy Wayne of Valparaiso; and nephews.
Cynthia was preceded in death by her infant daughter, Jennifer Lindsey Kurpis; and parents, Theodore and Muriel Gaedtke.
Arrangements are pending. Rees Funeral Home, Hobart Chapel handling arrangements. Please call (219) 942-2109 or go online at www.reesfuneralhomes.com.
This information was obtained from: https://www.meaningfulfunerals.net/home/index.cfm/obituaries/view/fh_id/12324/id/3638368.