Newsletter Clarification: Dues Are ONLY For
Paying Members of the HHS Alumni Association
Everyone who is registered on this website gets the HHSAA newsletter for free! The lead article in the December newsletter asked if you need to renew your membership for 2024. This ONLY applies to paying members of the HHS Alumni Association. If you decide to belong to the HHSAA, your dues goes towards student scholarships and teacher grants. But you are not under any obligation to join. Thanks!
---
BrickieFest Homecoming Picnic Brings Brickies
of All Ages Together in Perfect Weather!
The weather couldn't have been better for the 2023 BrickieFest Homecoming Picnic on Saturday, September 23, from 12 to 3 pm, at the Hobart VFW. Alumni from 1953 to 2033 were there (OK, future alumni), and hot dogs, brats, chips, and bottled water were served, courtesy of the HHS Alumni Association. Around 70-80 people attended.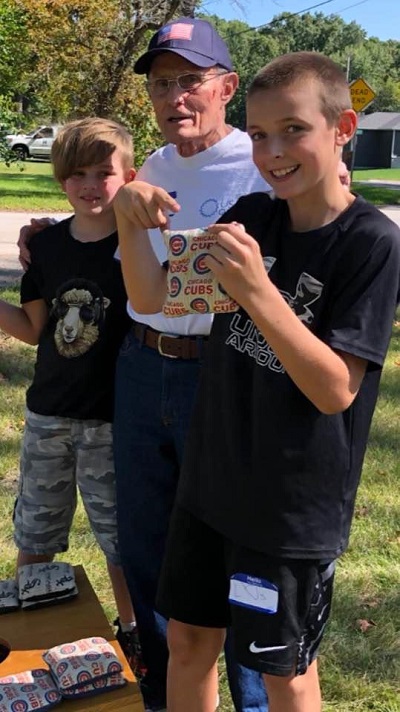 This came the day after the Hobart varsity football team defeated Lowell at the Brickies' homecoming football game at the Brickyard, 51-14. Old and young alike played cornhole, some new members joined the HHSAA, and friends got to see each other. Here are some pictures.
Right: Debbie Vega's grandson Aaron (Class of 2033), Sam Preissler (Class of 1953), and Nancy Lashenik's grandson Jace (Class of 2031), playing cornhole.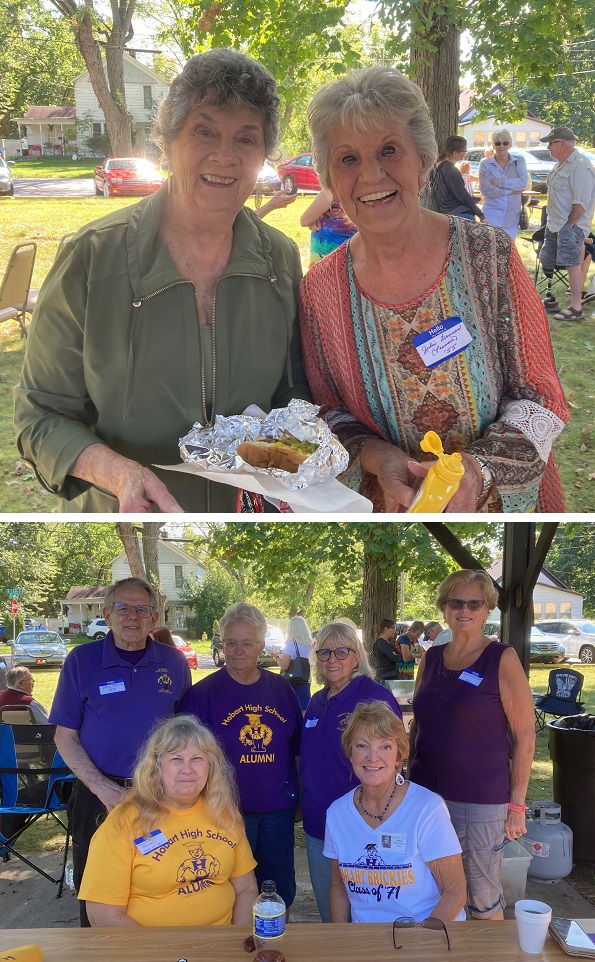 Left top: Lita Philpott Letnich and Julie Prosser Bannon, Class of 1955.
Left bottom: The HHS Alumni Association board. Front row: Tracy McCullough, Debbie Vega. Back row: Paul Addison, Lynn Kostbade, Beth Barney, Debra Opolski.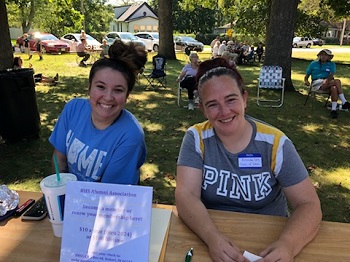 Right: Hannah Barney (2019) and Amanda Stillwell (2019), helping out at the HHSAA table.
---
Coach Madi Price and the
Hobart Brickies Volleyball Team
Madi Price is in her second year as coach of the HHS volleyball team, She and the players talke about how Coach Price is rebuilding the team. Read the story in the NW Indiana Times.
---
Cody Johnston Wins State Pole Vaulting Championship
Hobart High School senior Cody Johnston cleared 17 feet in the pole vault competition to win his second consecutive state championship on Friday, June 2.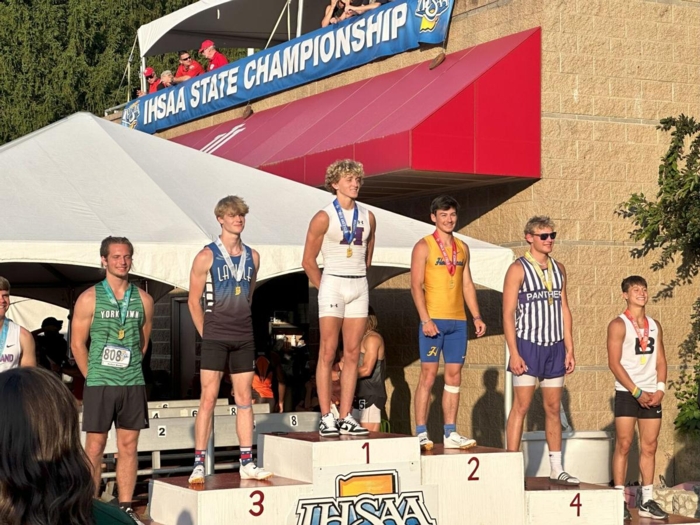 Cody had qualitified for the state competition by clearing 17 feet 6 inches at a Valparaiso regional.
This information, picture, and the full article were obtained from the NW Indiana Times, at: https://www.nwitimes.com/sports/cody-johnston-cruises-to-state-title-in-pole-vault-for-hobart/article_f4d0e828-01ba-11ee-94aa-3f69dfb131ee.html.
Photo and article credit: Evan Gerike, Times Correspondent
---
HHS Alumni Association Awards Scholarships To Three Seniors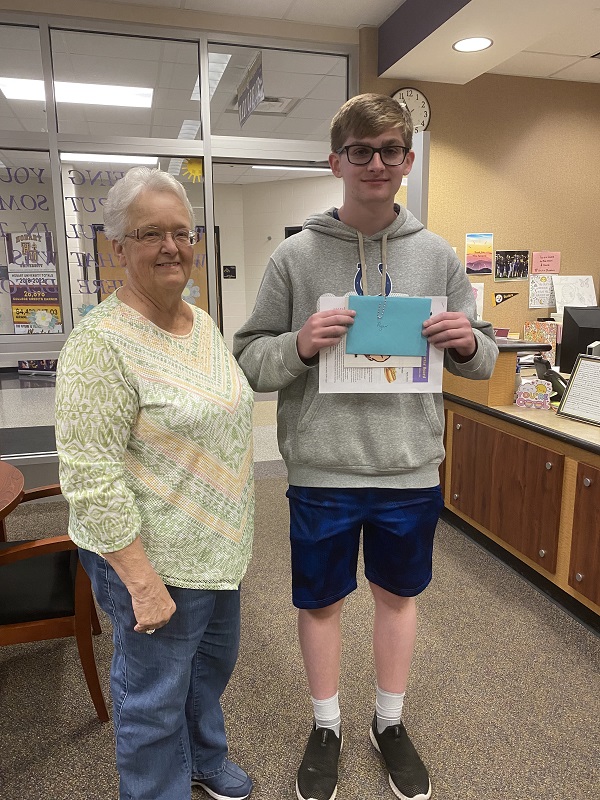 On May 2, the Hobart High School Alumni Association awarded scholarships to Alyssa Toscani (pictured below with her mother Jessica) and Nikolina Latinovic (pictured below with her parents Snezana and Miladin) at the Paragon Restaurant. Senior Ryan Wein (pictured at left) also won a scholarship, but was unable to be with the board that evening due to a track meet.
The HHS Alumni Association has been awarding scholarships every year since 2012. Scholarships are based on school activity and community service, and each applicant is required to write a short essay on "What It Means To Be A Brickie".
Congratulations to Ryan, Alyssa, Nikolina!
Left: Board member Lynn Kostbade with scholarship winner Ryan Wein.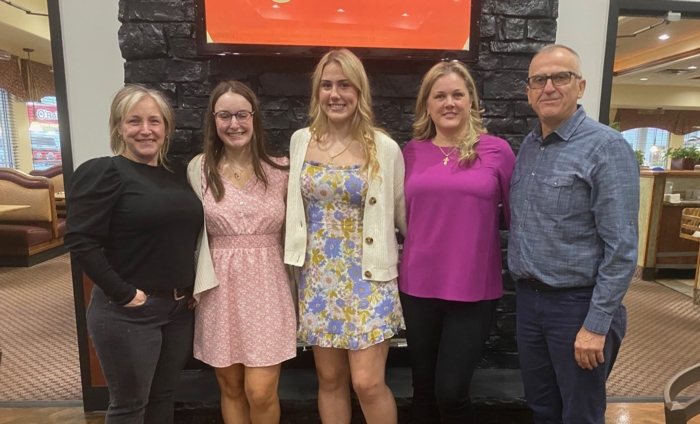 HHSAA scholarship winners Alyssa Toscani and Nikolina Latinovic
(second and third from left), with their parents.
---
Our Latest Newsletter is Available!
Here is the April 2023 edtion of the Hobart HS Alumni Association newsletter, featuring Autumn Turley, competitive diver at the University of Southern Indiana. There is also an article about Autumn further down on this page.
---
Homecoming Picnic is at the VFW on
Saturday, September 23, from Noon to 3 pm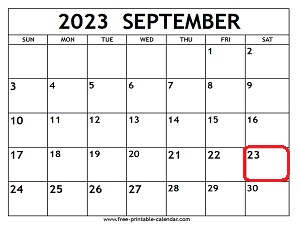 The 2023 BrickieFest Homecoming Picnic will be on Saturday, September 23, at the VFW, 540 S. Indiana Street in Hobart, from 12 noon to 3:00 pm. All Hobart alumni (students, teachers, and staff from all years) and their families are welcome. Free hot dogs, brats, chips and bottled water will be provided by the Hobart High School Alumni Association.
The Homecoming football game will be against Lowell on Friday, September 22, at the Brickyard. Mark your calendars now and make a weekend of it!
---
HHS Alumnus Max Wojihoski Named IU
Drum Major for the 2023-24 School Year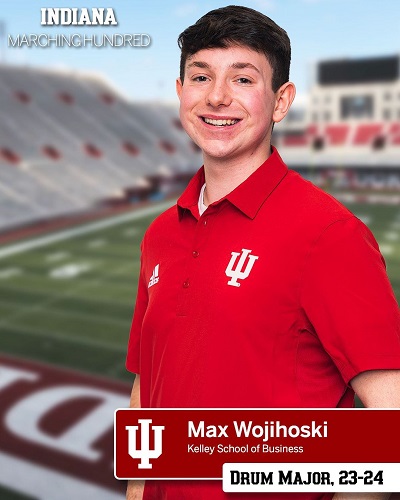 Hobart High School alumnus Max Wojihoski (Class of 2021) has been named the next Drum Major of the Indiana University Marching Hundred! Max served as an undergraduate staff member of the trumpet section and is a student in the IU Kelley School of Business. Congratulations, Max!
Watch for Max in the Alumni Spotlight feature of our next newsletter in February.
This information and picture were obtained from the IU Marching Hundred Alumni Facebook page, at: https://www.facebook.com/IUMHAB.
---
HHS Alum Autumn Turley Named "Diver to Watch"
For University of Southern Indiana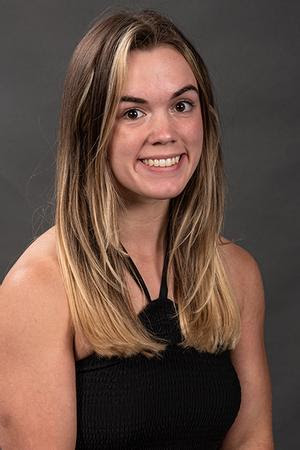 From the Beech Tree News (Morgantown, KY) website:
EVANSVILLE, Ind. — One of the top swimmers in the Summit League hails from Morgantown.
Currently competing in the 2022-23 women's college swimming & diving season, Butler County High School graduate Mattilynn Smith earned a preseason honor from the Summit League.
Each team from the Summit League named both a swimmer and diver to watch for the season. A freshman for the University of Southern Indiana, Smith was named the swimmer to watch for the Eagles. The Butler County High School graduate was named All-Region and Academic All-State in four straight years and was crowned regional champion in the 200 and 500 freestyle in 2022. Smith was also named 2022 Regional Outstanding Female Swimmer of the Year. She was also a top-10 finisher at the state level in the 1,000 and 1,650 for Southern Kentucky Swim Club.
University of Southern Indiana freshman Autumn Turley (Hobart, Indiana) was named the diver to watch for USI. The Hobart High School graduate was an Indiana High School Diving sectional qualifier and led the team to a Western Invite championship and Hobart Invite championship. Turley was also a part of the All-American Gold Team Scholars in 2020.
The 2022 season marks the first season in program history for swimming & diving at USI. The 22-member squad features 20 freshmen along with one junior and one sophomore.
Smith swam for Southern Kentucky Swim Club, finishing in the Top 10 at the state level in the 1,000 and 1,650 events. The Butler County High School graduate is majoring in Nutrition.
This article was obtained from: https://beechtreenews.com/articles/mattilynn-smith-recognized-swimmer-watch. The picture was obtained from the USI Swimming & Diving Roster, 2022-23, at: https://usiscreamingeagles.com/sports/womens-swimming-diving/roster/autumn-turley/7449.
---
Woodwork Career Alliance Names its Scholarship
Fund in Honor of Hobart HS Alumnus Greg Heuer
Hobart High School alum Greg Heuer, Class of 1965, was honored by the Woodwork Career Alliance of North America by naming its teacher scholarship program after him. Congratulations, Greg! Here's the first part of the story from the WCA website. The complete article is in the December 2022 issue of the HHSAA Newsletter.
Colleagues laud Heuer for his vision, dedication and leadership to create the WCA's credentialling system.
NELLYSVILLE, Va. – As a fitting tribute to one of its most influential founding fathers, the Woodwork Career Alliance of North America announced the renaming of its teacher financial aid program to the Greg Heuer EDUcation Scholarship Fund.
Heuer, secretary of the WCA Board of Directors since its inception in 2007 and one of the first WCA chief skill evaluators, recently retired from the board. He is credited by his colleagues for being the driving force that led to the development of the WCA Skill Standards and Passport credentialling system. Together, the Skill Standards and Passport form the foundation of new and evolving WCA programs used by a growing number of schools and wood products companies to teach and train the next generation of woodworking professionals.
The rest of the story can be found with this link to the WCA website.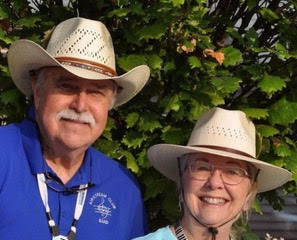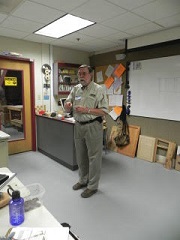 Left: Greg Heuer, Class of 1965, and his wife Linda.
Right: Greg leads a workshop for woodworking instructors
aspiring to become accredited skill evaluators.
---
Order Your Brickie Window Clings!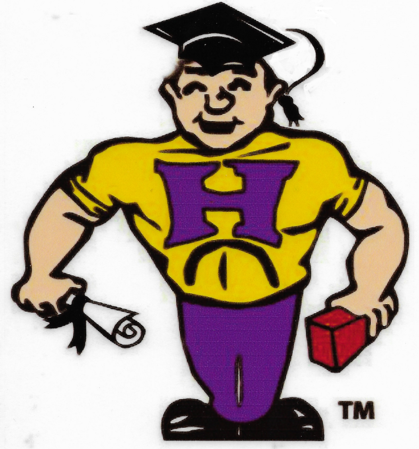 Looking for a gift for your newly-graduated Brickie?
You can get Hobart High School window clings for $3 each, or two for $5, by sending your check, made payable to the HHS Alumni Association, to Lynn Kostbade, 410 N. Joliet Street, Hobart, IN 46342.
Another great idea is a lifetime membership to the HHS Alumni Association, for $100. Send your check, made payable to the HHS Alumni Association, to HHSAA, PO Box 68, Hobart, IN 46342. Please include the name, addresss, email address and graduating class of your lucky lifetime Brickie!
---
Classmate Obituary Information Welcome
We do our best to keep up with listing obituaries for HHS alumni. We are able to find most obituaries that have the words "Hobart High School" in them, but many do not. If you come across any online obituary notice that is not posted in the "Recent Obituaries" page on this website by the time of the funeral, please send the link to me at info@hobartalumni.org, along with the classmate's year of graduation, if you know it, and I will post it right away.
Thanks to Gorjean Quick, who just sent me several obituaries from the Class of 1963.
---
Do You Have Class Reunion News to Share?
If your class is having a reunion later this year, or in 2020it's not too early to start letting people know about it. Please email us at info@hobartalumni.org, or email me (Paul Addison) personally at paulhaddison@gmail.com. Let us know the class year, the date, time and place of your reunion (however much you know at this time), and the name of the person to contact for more information. Thanks!
Click "Class Reunions" at the left to see all upcoming class reunion information, including future years.
---
Listen to What Was Playing When
YOU Were in High School
Do you remember the songs that were on the radio when you were in high school? Click on the "What Was Playing" link at the left, and you'll find YouTube links to five songs for every year going back to 1900! You may have heard them on the radio, at your class dances or prom, on the jukebox at Abbott's or Pete's, in your own room at home, or on YouTube or MTV!
Thanks to Jennifer Eastwood Davis, Class of 1962, for compiling this extraordinary list! Because they are links to YouTube, Vimeo and the like, they often go out of date. We are doing our best to keep the list up to date with working links. If you find a link that doesn't work, please email us at info@hobartalumni.org, tell us what year and what song link isn't working, and we will try to fix it right away.
Music can bring back lots of memories. What was playing when you were in high school?
---
Yearbooks Available Online from the
Lake County Public Library
The Lake County Public Library has been digitizing Hobart High School yearbooks. Most of them from 1908 to the present are online. Click "HHS Yearbooks Online" at the left to access the collection. You don't need to register or log in, and you can save the yearbooks as PDF files.
The HHS yearbook was called Aurora until 1946, when its name was changed to Memories.
---
Yes, We Have a Facebook Page!
If you use Facebook, please visit our Facebook page. Just login to Facebook, and search for Hobart High School Alumni Association, or paste this into your browser address bar: https://www.facebook.com/hohighalumni/
Facebook is frankly much better suited for classmates talking to each other than this website is. There is a Message Center on this website, but it requires notifying the other person by email, and they have to come back and login here to get the message. Facebook is just quicker.
Plus, you'll get news about special events on the Facebook page, as well as here.
---
Once Again: Don't Confuse Us
with www.AlumniClass.com!
Several people have joined the website at www.alumniclass.com, and some have even paid $10 for it! That website is for selling merchandise (not that there's anything wrong with that), but that is not the Hobart High School Alumni Association site. This one is!
Our site costs nothing to register. In fact, you can see everything except classmate profile information (email addresses and regular addresses) without signing in at all.
You won't get news of HHS alumni activities on the other site. They have no affiliation with Hobart High School or the HHS Alumni Association. Be sure to stay tuned at www.hobartalumni.org!
---
Welcome to the HHSAA Website!
The HHS Alumni Association raises funds for scholarships! We awarded one scholarship at our first HHSAA annual meeting in April 2012, and have awarded two or more at every annual meeting since. Donations for scholarships are tax-deductible and can be mailed to: HHS Alumni Association, PO Box 68, Hobart, IN 46342-0068. Write "Scholarship Fund" in the memo line. Thanks!
Do You Share An Email Address? If you share an email address with another HHS alum, you can use the same email address as your login, as long as you have a separate password! Remember, your Primary Email Address is your username to login.
Do You Have a Profile on the AlumniClass.com Website? That's Not Our Site!
Many of you have a profile on a website called AlumniClass.com (www.alumniclass.com). If you look at the bottom of their page, you will see this disclaimer: "This Site is independent of and has no association with any school, school district, or web site."
Linking from the HHS site: Recently, the Hobart High School website (www.hobart.k12.in.us) changed its Alumni link from the AlumniClass.com website to this one. If you created a profile on that website, it is still there, but please be reminded that AlumniClass.com is not the real Hobart High School Alumni Association. Our apologies for any confusion.
Are You Getting Annoying Emails?
If you are receiving email notifications from this site about people who have registered or changed their name, you may be subscribed to their profiles without meaning to. Just click on Notify Me at the left, then under Profile Subscriptions, check Unsubscribe From All Profiles In All Years. That should take care of it.