Hobart High School Alumni Association, Inc.
The Official Website of the HHS Alumni Association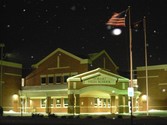 In Memory
Marilane Schroeder - Class Of 1969
OBITUARY FROM REES FUNERAL HOME WEBSITE, JANUARY 3, 2015:
Marilane C. Schroeder, age 63 of Yorkville, Illinois passed away Thursday, January 1, 2015. She was born on July 15, 1951 in Gary, Indiana to the late Theodore and Anita Schroeder. She was a former Plainfield resident. Marilane grew up in Hobart, Indiana and graduated from Hobart High School in 1969. She went on to earn her nursing degree from Purdue University. She was a member of Sigma Beta Sorority and Trinity Lutheran Church. Marilane served her country in the U.S. Army as a nurse in Vietnam. She worked at BP in Warrenville, Illinois. Marilane enjoyed quilting and sewing. She is survived by one son, Chris (Kelly Howell) Schroeder of St. Marys, OH; one sister, Betsey (John) Kimpan of Oswego, IL; one sister-in-law, Bridget Schroeder of Crown Point, IN; and numerous nieces and nephews.
She was preceded in death by two brothers, Theodore (Sharon) Schroeder, Daniel Schroeder, 2 nephews, John Kimpan III, Joseph Kimpan, and best friend, Linda Breitzke.
Visitation is Tuesday, January 6, 2015 from 2 p.m. to 7 p.m. at Rees Funeral Home, 600 West Old Ridge Road, Hobart. A funeral service will follow at 7 p.m. with Rev. Gary S. Nagy officiating. Cremation will take place with Rees Funeral Home and Cremation Service. Call (219) 942-2109 or visit us online at www.Reesfuneralhomes.com.
This information was obtained from: http://www.meaningfulfunerals.net/fh/obituaries/obituary.cfm?o_id=2889678&fh_id=12324.