Hobart High School Alumni Association, Inc.
The Official Website of the HHS Alumni Association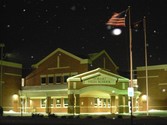 In Memory
Sharon Byrge (Bjork) - Class Of 1964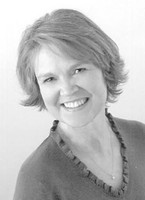 OBITUARY FROM MINING JOURNAL (MARQUETTE, MICHIGAN), FEBRUARY 5, 2015:
Sharon Kay Bjork, age 69, of Marquette, entered eternal life Monday evening, February 2, 2015, at her home, in the loving and comforting care of her family and the caregivers of Lake Superior Hospice. Sharon was born January 16, 1946 in Gary, IN, the daughter of Donald and Orpha (Kellesvig) Byrge. She was raised in Hobart, IN, and graduated from Hobart High School and Carthage College in Kenosha, WI.
As a freshman in college, she began dating Cary Bjork, and they were married on August 10, 1968, just prior to moving to Denver, CO, where Sharon taught 1st grade for four years. The couple lived in Fort Defiance, AZ, in the Navajo Nation for two years before returning to Denver. In 1977, the family moved to Marquette and raised their three sons.
Sharon took pleasure in all aspects of life. Her interests included a love of music, playing the piano and flute, a love of flowers and gardening, needlepoint in earlier years, participating in her book club, enjoying gourmet cooking, and spending time with family, friends, and especially her grandchildren. She loved volunteering locally and internationally. She donated her time and talents to her childrens' schools, volunteered in Ecuador, and taught first graders in Uganda twice. She was also active in the fundraising efforts for the Peter White Public Library addition and was a buyer for the hospital gift shop. Sharon enjoyed her travels to Hawaii, backpacking in the Grand Canyon, trekking in Nepal, visiting Egypt and Jordan, Scandinavia and other regions in Europe and numerous other destinations. In recent years, Sharon devoted herself to caring for her mother, until Orpha's death in 2013. Sharon was a member of Messiah Lutheran Church, the PEO Sisterhood and the Michigan State Medical Society Alliance.
Survivors include her husband, Cary; their children, Bryan (Mindy) Bjork of Naperville, IL, Adam Bjork and Jonathan (Meghan) Bjork of Atlanta, GA; grandchildren, Gavin and Macy Bjork; her brother, Kenneth (Laurie) Byrge. Sharon was preceded in death by her parents, Donald and Orpha Byrge.
Friends may call at the Messiah Lutheran Church on Friday, February 6, beginning at 3:00 pm until the time of service at 6:00 pm. Rev. David Van Kley and Rev. Amanda Kossow will officiate. A reception will follow in Magnuson Hall. Interment will be made in the Park Cemetery. In lieu of flowers, memorials may be directed to Messiah Lutheran Church, Lake Superior Hospice Association, Peter White Public Library, or a charity of choice. The Swanson- Lundquist Funeral Home is serving the family, where condolences may be expressed online at swansonlundquistfuneralhome.com.
INFORMATION FROM PATTI FRIEDLEIN CLARK:
Deceased Classmate: 1964 Sharon Kay Byrge Bjork
Date Of Birth: Jan-16-1946
Date Deceased: Feb-2-2015
Age at Death: 69
Cause of Death: cancer
Classmate City: Marquette
Classmate State: MI
Classmate Country: USA
Survived By: Husband Dr. Cary Bjork, 3 sons, 2 grandchildren, 1 brother
Sharon started 1st grade at Mundell in 1952 and was a beautiful, quiet, smart, talented girl. She played the flute in the band under Al Spriester and Dr. Webb. She was a Brownie, a Girl Scout and 1968 graduate of Carthage College In Kenosha, Wisconsin. She raised exceptional boys and worked in the community, serving others. She loved to travel and cross-country ski. She was a good friend to many and is dearly missed.