Hobart High School Alumni Association, Inc.
The Official Website of the HHS Alumni Association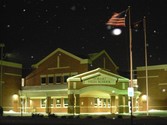 In Memory
Kathleen (Kathy) Knouff (Anderson) - Class Of 1967
OBITUARY FROM REES FUNERAL HOME WEBSITE, JUNE 6, 2014:
KATHLEEN A. ANDERSON, age 65, of Hobart, passed away peacefully with her family by her side on Tuesday, June 3, 2014 at Northwestern Memorial Hospital. She courageously battled Scleroderma for over 15 years. Kathy was a lifetime Hobart resident and a 1967 graduate of Hobart High School. She married Ronald Anderson on April 3, 1970 at St. Bridget Church, where she was a lifelong member. Kathy was a member of Tri Kappa Sorority and HIEDC. She will be remembered as being dedicated to her children and grandchildren. Kathy will be deeply missed.
Kathy is survived by her husband, Ronald; 2 children, Keith (Tracy) Anderson of Hobart and Carrie (Rob) Rongers of Valparaiso; 4 grandchildren, Jacob and Tyler Anderson and Madelyn and Kaylee Rongers; brother-in-law, Jeff Foerg and sister-in-law, Roberta Knouff; many nieces, nephews and other loving family and friends.
She was preceded in death by her parents, James and Genevieve Knouff; brother, James Knouff, Jr.; and sister, Deborah Foerg.
A Memorial Mass for Kathy will be Monday, June 9, 2014 at 10:00 a.m. DIRECTLY at St. Bridget Catholic Church, 568 E. 2nd St., Hobart with Rev. Dominic V. Bertino officiating. There will be additional visitation on Monday at St. Bridget from 9:30 a.m. until the time of Mass. Inurnment will follow at Calvary Cemetery in Portage. Memorial visitation will be Sunday, June 8, 2014 from 2-4 & 6-8 p.m. at Rees Funeral Home, Hobart Chapel, 600 W. Old Ridge Rd., Hobart, (219) 942-2109 or go online at www.reesfuneralhomes.com.
This information was obtained from: http://www.meaningfulfunerals.net/fh/obituaries/obituary.cfm?o_id=2548260&fh_id=12324.