Hobart High School Alumni Association, Inc.
The Official Website of the HHS Alumni Association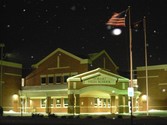 In Memory
Lawrence Gee - Class Of 1951
OBITUARY INFORMATION PROVIDED BY LARRY'S SISTER, GWEN GEE CULBRETH:
Deceased Classmate: 1951 Lawrence Gee
Date Of Birth: Feb-14-1933
Date Deceased: June-28-2015
Age at Death: 82
Cause of Death: Lymphoma
Classmate City: Hobart
Classmate State: IN
Classmate Country: USA
Was a Veteran: Yes Air Force
Survived By: sister-Gwen Gee Culbreth brothers: Raymond, David Donald and William Ronald Gee Wife: Ann Gee Children: Michael, Richard and Laura Gee

Larry and I (his sister Gwen) were in the same grades all thru elementary and high school. He used to tell everyone we were twins (which we weren't but were 11 months apart), which they believed as we had twin brothers, Ron and Don. Larry served in the Air Force, and was employed as a Draftsman. His wife Ann and his son Richard have since passed away. I miss them. Gwen
---
The picture was obtained from the 1951 HHS Memories yearbook, made available by the Lake County Public Library, at: https://archive.org/details/HOHS1951Images/.