Hobart High School Alumni Association, Inc.
The Official Website of the HHS Alumni Association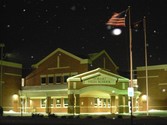 In Memory
Robert "Bob" Ramsay - Class Of 1951
OBITUARY FROM NW INDIANA TIMES, JUNE 29, 2014:
Robert A. Ramsay, age 81, of Inverness, FL and formerly of Hobart, passed away Tuesday, June 17, 2014. He was the son of the late George and Esther Ramsay. Robert was a graduate of Hobart High School Class of 1951 and served in the U.S. Navy. He retired from Bethlehem Steel where he worked as a foreman in water processing. Robert was an avid outdoorsman who loved to fly fish. He was a loving husband, father, and grandfather.
Robert is survived by his wife of almost 62 years, Gail (nee Drew); three children; Mike Ramsay of MN, Scott (Lori) Ramsay of Hobart, and Lee Ann (Marty) Summers of Portage; sister, Beverly Fitzgerald of Portage; five grandchildren; and many nieces and nephews.
A memorial visitation will be held Wednesday, July 2, 2014 at 10:30 a.m. at the Real Life Community Church, 3134 Swanson Road in Portage.
This information was obtained from: http://www.legacy.com/obituaries/nwitimes/obituary.aspx?pid=171533698.