Hobart High School Alumni Association, Inc.
The Official Website of the HHS Alumni Association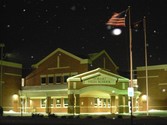 In Memory
Delores "Dee" Stowers (Biel) - Class Of 1951
OBITUARY FROM REES FUNERAL HOME WEBSITE, JUNE 8, 2016:
Delores Marie Biel, age 83, of Lake Station, Indiana, passed away on Friday, June 3, 2016. Delores (Dee) was born on March 17, 1933, in Hobart, Indiana, to the late Kenneth and Alta (Walter) Stowers.
A lifelong area resident, Delores attended Hobart High School. She soon married the love of her life, Ed, with whom she enjoyed 64 years of happiness together until Ed's passing in 2015. Although she held various jobs throughout her lifetime, her cherished occupation was as mother to her daughter, Diane (George) Gordon of Valparaiso, Indiana, and grandmother to Kristina (Colin) White of Chicago, Illinois. Her devotion to her family, kindness and compassion for others, and sense of humor will be remembered by all who knew her.
Delores is also survived by her brothers Wayne (Beverly) Stowers of Valparaiso, Indiana, and Dan (Wanda) Stowers of Avon, Indiana, as well as her sister-in-law, Dorothy Fabian, of Hobart, Indiana. Delores was preceded in death by her sisters Rheba (Bob) Rans and Kathleen (Gene) Fourman, all of Hobart, Indiana.
A funeral mass will be conducted at 10:00 a.m. on Saturday, June 11, 2016, at St. Bridget Church, 107 Main Street, Hobart, Indiana, with the Rev. Dominic V. Bertino officiating. A visitation will be held at the church, prior to the mass, from 9:00-10:00 a.m.
Arrangements were completed by Rees Funeral Home, Hobart Chapel. For more information, please call 219-942-2109.