Hobart High School Alumni Association, Inc.
The Official Website of the HHS Alumni Association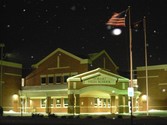 In Memory
James "Jimmy" Vanderplough - Class Of 1980
OBITUARY FROM NW INDIANA TIMES, SEPTEMBER 2, 2015:
James R. (Jimmy) Vanderplough, age 53, of Hobart, passed away suddenly on Saturday, August 29, 2015. Most people knew Jimmy by his nickname, which was "Froggy". He worked at Karps Garden and Feed Center for over 20 years. He was a 1980 graduate of Hobart High School. He enjoyed fishing and most of all he loved people. He was friendly to everyone he met. He was a wonderful son and brother.
Jimmy was preceded in death by his mother, Beverly Joy Vanderplough and his nephew, Luke Neideffer. He is survived by his father, Jim Vanderplough; two brothers: Rodney Vanderplough, Jeff Vanderplough; sister, Julie (Randy) Neideffer; uncle and aunt, Jerry and Debbie Vanderplough; four nieces: Nicole (Mike) Bilderback, Kelli Vanderplough, Victoria Neideffer, Sydney Neideffer; nephew, Thomas Vanderplough.
Private graveside services for Jimmy will be held at Oak Hill Cemetery in Crawfordsville, IN. There will be no visitation. Arrangements were entrusted to Burns Funeral Home, 701 East 7th Street, Hobart. www.burnsfuneral.com.
This information was obtained from: http://www.legacy.com/obituaries/nwitimes/obituary.aspx?pid=175717272.