Hobart High School Alumni Association, Inc.
The Official Website of the HHS Alumni Association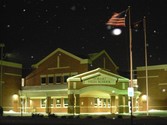 In Memory
Theodore (Ted) Milenkoff - Class Of 1954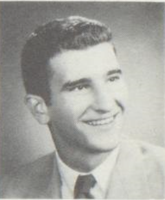 OBITUARY FROM THEPOST-TRIBUNE WEBSITE, JUNE 12, 2018:
Theodore J. Milenkoff, age 82, of Hobart, passed away Sunday, June 10, 2018. He was born on February 27, 1936 in Gary, Indiana to the late John and Mary Milenkoff. Ted proudly served his country as a member of the United States Army during the Korean War. He was a member of the American Legion Post #502 for 50 years. Ted retired from US Steel where he worked as a supervisor for over 38 years. He loved photography and in his free time, he enjoyed taking pictures of landscapes.
He is survived by his wife, Sharon (nee Fuller) Milenkoff; sons, Brian (Carol) Milenkoff, Kevin (Penny) Milenkoff, Theodore (Tracie) Milenkoff; daughter, Therese (Richard) Jasper; step daughters, Sherry (Jeff) Fary, Shelley Kostoff; grandchildren, Shawna Milenkoff, Derrick Milenkoff, Ryan Milenkoff, Paige Milenkoff, Jett Jasper, Jori-Anne Jasper, Matthew Milenkoff, Madilyn Milenkoff, Christopher Fary and Michael Fary; great grandchildren, Nathan, Ayden, Braxtin and Liam; sister, Christine "Tina" (George) Doolin; nephews, George and John Doolin.
In lieu of flowers, memorial contributions in Ted's name may be made to the Hobart Humane Society. A funeral service for Ted will take place Thursday, June 14, 2018 at 6:00 pm at Rees Funeral Home, Hobart Chapel, 600 West Old Ridge Road, Hobart. Visitation will be held Thursday from 3:00 pm until 7:00 pm at the funeral home. For more information, please call (219) 942-2109. Online condolences may be shared with the family at www.reesfuneralhomes.com.
This information was obtained from: http://www.legacy.com/obituaries/post-tribune/obituary.aspx?n=theodore-j-milenkoff&pid=189268845. The picture was obtained from the 1954 HHS Memories website, made available by the Lake County Public Library, at: https://archive.org/stream/HOHS1954Images/.