Hobart High School Alumni Association, Inc.
The Official Website of the HHS Alumni Association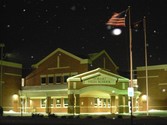 In Memory
John Earl "Jack" Reid - Class Of 1954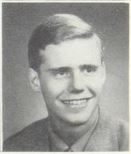 OBITUARY FROM NW INDIANA TIMES, MAY 24, 2016:
John "Jack" Earl Reid, age 81 of Hobart, passed away on May 19, 2016. He is a 1953 graduate of Hobart High School. John was a former employee of the steel industry. He was preceded in death by his parents, Albert and Elizabeth Reid and his sister, Evelyn McLean. He is survived by his brother, Harold (Patricia) Reid of Crown Point. A memorial service will be held at 10:30 a.m. on May 23, 2016, with Rev. Charles Strietelmeier officiating. www.burnsfuneral.com.
This information was obtained from: http://www.legacy.com/obituaries/nwitimes/obituary.aspx?pid=180087056. The picture was obtained from the 1954 Memories yearbook.
[Note: The obituary says that Jack graduated with the Class of 1953, but his name, senior picture and biographical information are in the 1954 HHS Memories yearbook.]