Hobart High School Alumni Association, Inc.
The Official Website of the HHS Alumni Association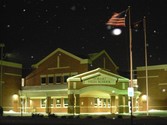 In Memory
Steve Flick - Class Of 1973
OBITUARY FROM REES FUNERAL HOME WEBSITE, MARCH 25, 2016:
Steven Ray Flick, Sr., age 60, of Hammond, passed away Tuesday, March 22, 2016 at the University of Chicago Hospital. He was born on July 11, 1955 in Gary, Indiana to Robert and Marilyn Flick. He was a 1973 graduate of Hobart High School. Steve worked as a foreman for SMS Metals since 1978 and was a member of Teamsters local #142. In his free time, he enjoyed hunting, fishing and bowling. Steve will always be remembered for his devoted and benevolent nature. On April 12, 1985, he married the love of his life, Nicki Czalbowski, and happily adopted 7 children as his own. For the rest of his life, even his children's friends would call him "Dad".
Steve is survived by his wife of 30 years, Nicki Flick; mother, Marilyn Martinez; sons, Joseph (Jennifer) Evans, Brian Evans, Timothy Stringfield, Robert (Tami) Flick, Steven (April) Flick, Jr., Edwin Flick; daughters, Tracy (Eric) Stucker, Elizabeth (Ken) Kenyon; 11 grandchildren; 6 great grandchildren; brother David (Anna) Flick; sisters, Sherry (Jim) Petoskey, Robin (Jerry) Flick; numerous nieces, nephews, and cousins; beloved dogs, Chin Ho Kelly and Kona Ki.
He is preceded in death by his father, Robert E. Flick; stepfather, James Martinez; grandson, Nicholas Stucker; maternal grandparents, Edwin and Mildred Ailes; paternal grandparents, Russell and Opal Flick. In lieu of flowers, memorial contributions in Steve's name are preferred to the family.
A memorial service for Steve will take place Monday, March 28, 2016 at 7:00 pm at Rees Funeral Home, Hobart Chapel, 600 West Old Ridge Road, Hobart. Memorial visitation will be held from 4:00 pm until the time of service at the funeral home. For more information, please call (219) 942-2109. Online condolences may be shared with the family at www.reesfuneralhomes.com.
This information and picture were obtained from: https://www.meaningfulfunerals.net/home/index.cfm/obituaries/view/fh_id/12324/id/3638229.