Hobart High School Alumni Association, Inc.
The Official Website of the HHS Alumni Association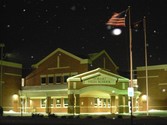 In Memory
LaDonna Piepho - Class Of 1974
OBITUARY FROM NW INDIANA TIMES, MAY 18, 2016:
LaDonna Jean (nee Piepho) Dudzik, age 60 of Portage, IN, passed away on Friday, May 13, 2016. She was born on February 2, 1956 in Hebron, Nebraska to Glen and Leona Mable (Doehring) Piepho. She is survived by her husband of 38 years, Dale Dudzik of Portage, IN; son, Derek (Kristen) Dudzik of Gary, IN; daughter, Jaimi (John) Bolz of Portage, IN; grandchildren: Logan Jane Dudzik, Jarritt and Jentry Bolz; sister, Venetha (Ed) Morris of Woodridge, IL; and many extended family and friends. LaDonna was preceded in death by her father, Glen Piepho; mother, Leona Mable Osby; step-father, Jim Osby; and brother, Arlan Piepho.
LaDonna was a Field Supervisor for the U.S. Census Bureau. She enjoyed gardening, going to the beach and being outdoors. She loved spending time with her family and friends. LaDonna was a devoted soccer and basketball mom, and attended many sporting events for her children and grandchildren.
Funeral service will be held on Friday, May 20, 2016 at 7:00 p.m. at Edmonds & Evans Funeral Home, 6941 Central Ave, Portage, IN 46368, with Pastor Mitchell Tabla officiating. Visitation will be held on Friday, May 20, 2016 from 4:00 p.m. until the time of services at 7:00 p.m. at the Funeral Home. Please make a donations in memory of LaDonna at the University of Chicago Medicine: University of Chicago Gift Administration and Business Data, LaDonna Dudzik Memorial - Oncology Department, 5235 S. Harper Court, 4th Floor, Chicago, IL 60615. Online condolences to the family may be made at: www.ee-fh.com.
This information was obtained from: http://www.legacy.com/obituaries/nwitimes/obituary.aspx?pid=180022643.