Hobart High School Alumni Association, Inc.
The Official Website of the HHS Alumni Association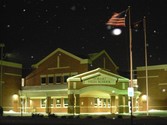 In Memory
Kurt Imboden - Class Of 1979
OBITUARY FROM THE REES FUNERAL HOME WEBSITE, JULY 13, 2017:
KURT R. IMBODEN, age 55, of Calumet City, IL and formerly a longtime Hobart resident passed away Monday, July 10, 2017. Kurt was born on September 4, 1961 to Roy and Henrietta Imboden. He was a 1979 graduate of Hobart High School.
He is survived by his son, Zebulon "Zeb" Imboden; father, Roy Imboden; 4 brothers, Alan (Cheryl) Imboden, Clyde (Patty) Imboden, Karl (Lori) Imboden, Derek (Jean) Imboden; sister, Rosanne (Bruce) Doege; many nieces and nephews.
Kurt was preceded in death by his mother, Henrietta Imboden. Memorial contributions may be made to the National Alliance on Mental Illness (NAMI), P.O. Box 22697, Indianapolis, IN 46222-0697.
There will be a memorial visitation for Kurt on Monday, July 17, 2017 from 4:00-7:00 p.m. at Rees Funeral Home, Hobart Chapel, 600 W. Old Ridge Rd., Hobart, IN 46342, (219) 942-2109 or go online to extend condolences at www.reesfuneralhomes.com.
This information was obtained from: https://www.meaningfulfunerals.net/obituary/4304534?fh_id=12324.