Hobart High School Alumni Association, Inc.
The Official Website of the HHS Alumni Association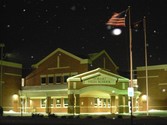 In Memory
Joe Koselke - Class Of 1952
OBITUARY FROM NW INDIANA TIMES, JUNE 29, 2016:
Joseph Anthony Koselke, age 81, of Highland passed away Sunday June 26, 2016. He is survived by his loving wife of 61 years, Maureen; and his loving daughter, Colette Koselke; his siblings: Rose Fasel, Gen Sothman and Noreen (Demos) Gelopulos; sisters- in-law: Florence Koselke, Cecile (Rich) Jagodzinski, Sheila Sullivan and Pat (Len) Stocker; brothers-in-law: Harold Sullivan and Mike (Jill) Sullivan; numerous nephews, nieces and great nephews and nieces. Preceded in death by brother, James Koselke.
A funeral mass will be held Friday July 1, at 10:30 a.m.at Our Lady of Grace Church, Highland with Rev. Edward Moszur officiating. Cremation to follow.Visitation will be on Thursday June 30, 2016 at Fagen Miller Funeral Home 2828 Highway Ave., Highland, from 3:00 - 8:00 with a prayer service at 4:30 p.m. and at the church on Friday from 10:00 until the time of mass.
Joe was born to immigrant parents on December 12, 1934 in Gary, IN, raised by Helen and Leo Koselke of Hobart, IN. Joe went to St. Bridget grade school and Hobart High class of 1952. Joe's motto "once a Brickie always a Brickie" He enjoyed going to the monthly breakfast meetings with his class mates. In 1957 he joined the Army and was honorably discharged in 1963. As a young man, Joe had several jobs until he ended up as a parts manager in several G.M. dealerships. He loved his job because he loved being in the public and talking to people. He always had a smile on his face and he liked to joke a lot. On May 14, 1955 Joe married Maureen Sullivan of Chicago, IL. Joe was a long time usher and Holy Name officer at Our Lady of Grace Church. He was a charter member of Knights of Columbus council 8080. He enjoyed golfing, bowling, playing poker with family and friends. Joe will be missed by all, especially his wife and daughter. www.fagenmiller.com.
This information was obtained from: http://www.legacy.com/obituaries/nwitimes/obituary.aspx?pid=180486313.