Hobart High School Alumni Association, Inc.
The Official Website of the HHS Alumni Association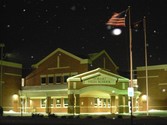 In Memory
Larry Kostbade - Class Of 1952
OBITUARY FROM THE PORT CITY DAILY (CAPE FEAR, NORTH CAROLINA):
Larry Kostbade, 80, served in variety of leadership positions at Elk Lodge, VFW of Oak Island
(from Peacock - Newnam & White Funeral and Cremation Service - February 11, 2015)
Larry Kostbade, of Oak Island, died Monday, Feb. 9, 2015, at Brunswick Medical Center. He was 80. He was born in Gary, Indiana, son of Clarence C Kostbade and Mildred Blachley Kostbade. He proudly served in the U.S. Navy for more than 20 years, followed by a career in the nuclear power industry. He was active and served in a variety of leadership positions in the Elks Lodge, VFW of Oak Island, Masonic Lodge and Shriners.
He is survived by his son, Doug Eggiman and his wife, Eve, of Pawleys Island, South Carolina. He is also survived by his three granddaughters, Stephanie, Tiffany and Victoria Eggiman, of Pawleys Island, South Carolina.
A memorial service will be held at The Oak Island Elk Lodge at a later date. Memorial donations can be made to the Wounded Warrior Project.