Hobart High School Alumni Association, Inc.
The Official Website of the HHS Alumni Association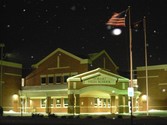 In Memory
Betty Moss (Moore) - Class Of 1958
OBITUARY FROM POST-TRIBUNE, NOVEMBER 29, 2015:
Betty Jean Moore (Moss), age 75, passed away Wednesday, November 25, 2015 at St. Mary Hospital in Hobart, IN.
Preceded in death by her loving husband, William Moore and daughter, Brenda Kaye Banaski; parents, Lyle and Dorothy Moss. Betty Jean Moore (Moss) is survived by her loving and devoted son, David (LeEsta) Banaski, Mark (Lynn) Banaski, Joseph (Dawn) Banaski and loving daughter, Cynthia Michael; one brother; Robert (Helen) Moss; two sisters Shirley (Bill) Richardson and Joyce Dunn; grandchildren, Angela, Amy, Bryan, Brandon, Kyla, Anna, Liam, Beth, Lisa, Angel, Fran, Jessica and Chelsea; great grandchildren, Tyler, Makayla, Emily, Carter, Olan, Olivia, Autumn and Aysley; nieces, nephews, other loving family members and precious friends.
Betty will be remembered for her kindness and the love of her family. She enjoyed making and selling crafts, collecting porcelain dolls and working in her garden. Betty also loved her dog, Cocoa.
Visitation will be Friday, December 4, 2015 from 10 to 11 a.m. with Funeral Service at 11:00 a.m. in the Main Chapel at the Ridgelawn Funeral Home, 4201 West Ridge Road, Gary, IN 46408 (219) 980-5555. Burial will be at the Ridgelawn Cemetery in Gary, IN. Betty Jean Moore will be deeply missed by her loving, devoted family and precious friends. God Grant Her Eternal Peace.
This information was obtained from: http://​www.legacy.com/obituaries/post-tribune/obituary.aspx?pid=176691749.