Hobart High School Alumni Association, Inc.
The Official Website of the HHS Alumni Association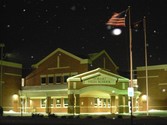 In Memory
Patricia O'Neill (Keefer) - Class Of 1953
OBITUARY FROM LAKEVIEW FUNERAL HOME (LaPORTE, IN) WEBSITE, DECEMBER 5, 2015:
Patricia Ann Keefer, 79, of Westville, passed away peacefully at 2:53 a.m., Tuesday, December 1, 2015 in her home. She was born on January 5, 1936, in Gary, Indiana, to Emmett and Sarah (Boyle) O'Neill. Patricia attended Indiana and Purdue University, graduating with her Associates in Nursing. She has been retired for nine years as a LPN from Indiana Department of Correction. On March 10, 1991, in Las Vegas, Nevada, she married Frank Keefer, who survives.
Also surviving are three children, Dianne Jackson of Portage, John (Pat) Merkley of Little Rock, AR, and Kellie (Michael) Halkitis of Chicago, IL; eight grandchildren, James (Jamie Doll) Gonzales, Jason (Elizabeth) Gonzales, Dane, Matthew, Joe, and Drew Merkley, Evan, and Aidan Halkitis; five great grandchildren, Ashley, Isaac, Sara, Donovan, and Joshua. Preceding her in death were her parents; brother, Michael O'Neill, and infant sister, Sally O'Neill.
Cremation will take place. Lakeview Funeral Home & Crematory, 247 W. Johnson Rd., La Porte, (219) 362-3100 is caring for the arrangements. Please send condolences to the family at www.LakeviewFHC.com. Memorial contributions may be directed to the American Cancer Society, P.O. Box 22478, Oklahoma City, OK 73123 in memory of Patricia Keefer.
This information was obtained from: http://www.lakeviewfhc.com/obituaries/obituary-listings?obId=680530#/obituaryInfo.