Hobart High School Alumni Association, Inc.
The Official Website of the HHS Alumni Association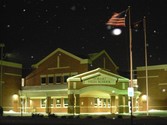 In Memory
H. Richard (Dick) Harrigan - Class Of 1941
OBITUARY FROM NW INDIANA TIMES, AUGUST 21, 2005
Chief H. Richard "Dick" Harrigan, of Hobart, passed away Friday August 19, 2005. Dick had been a Hobart resident all of his life. He was a 1941 graduate of Hobart High School. He served as Fire Chief for the city of Hobart for 38 years. Between 1949 and 1951 he served as both Police Chief and Fire Chief for the city. He was past State President of the Indiana Fire Chiefs Association, Past District Chairman of Indiana Firefighters Association, Public Relations Director of the Indiana Police and Firefighters Professional Association, Charter Member of Hobart Fraternal Order of Police, First State President of the Police League of Indiana, President of the Lake County Liquor Board, past President of Lake County Crippled Children Society, past President of Lake County March of Dimes, and an Indiana State Legislature Lobbyist.
Dick is survived by his wife, Barbara (nee Potts), loving children: Richard and Patricia Harrigan and Greg and Brent Eldridge; brothers: A.F. "Pete" (Patti) Harrigan of Hobart, Donal Harrigan of Port Orange, FL, and Mary Jane Bradley of New Smyrna, FL; numerous nieces and nephews.
Funeral Services will be held on Tuesday, August 23, 2005 at 11:00 A.M. at Rees Funeral Home, Hobart Chapel, 600 West Old Ridge Road, Hobart, with Honorable the Chet Dobis, Mr. Brian Gallagher, and Rev. Jonathon P. Gosser, officiating. Visitation will be on Sunday from 4-8 p.m. and Monday from 2-8 p.m. MEMORIAL SERVICE will be held on MONDAY AT 3:00 PM. Memorial contributions are preferred to the First United Methodist Church of Hobart or the Fallen Firefighters Memorial Fund of Indiana at Rees Funeral Home, Hobart. For more information call (219) 942-2109.
This obituary was obtained from: http://www.legacy.com/obituaries/nwitimes/obituary.aspx?page=lifestory&pid=14871846