Hobart High School Alumni Association, Inc.
The Official Website of the HHS Alumni Association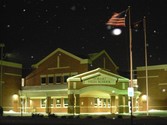 In Memory
Robert C. (Bob) McIntyre - Class Of 1941
OBITUARY FROM THE NW INDIANA TIMES, SEPTEMBER 29, 2007
Robert C. "Bob" McIntyre, age 85, passed away Friday, September 28, 2007 surrounded by his family. He was born in Hobart, IN to Charles and Helen (nee Thyen) McIntyre. He graduated from Hobart High School Class of 1941. Bob married Mary (nee Ellis) on November 30, 1943. He was a U.S. Marine Corps veteran of WWII where he served as a Bombardier and retired as a First Lieutenant. Bob was an accountant at U.S. Steel until his retirement in 1982. During his life, he was involved in many organizations and activities. He was instrumental in founding the Hobart Pool and was a member of the board of directors. Bob was a very active member of St. Bridget Church, helped coach boy's basketball while his children were growing up and served as president of the Hobart High School Boys Basketball Booster. Bob was also a founding member of the Brickie Gold 500 Club. He was a member of the American Legion Post 54, Knights of Columbus and a charter member of the Supervisors Club. Bob and his wife, Mary, organized and founded the Hobart Food Pantry, where Bob served as bookkeeper, among many other duties.
Bob is survived by his loving wife, Mary; five children: Michael (Gale) McIntyre of San Diego, CA, Melinda (late Bill) Whitson of Spring Hill, FL, Curt (Debra) McIntyre of Fort Myers, FL, Bill (Lori) McIntyre of South Bend, IN and Steve McIntyre of Hobart, IN; numerous grandchildren and great-grandchildren. Preceded in death by his parents and brother, Floyd "Bud" McIntyre.
Funeral services will be held Monday, October 1, 2007 at 1:00 p.m. at Rees Funeral Home, 600 W. Old Ridge Road, Hobart, IN with Rev. Dominic Bertino officiating. Burial will follow at Hobart Cemetery. Visitation will be Monday, October 1, 2007 from 11:00 a.m. to 1:00 p.m. (time of service). In lieu of flowers, memorial donations are preferred to the Hobart Food Pantry, 200 S. Hobart Road, Hobart, IN 46342. For further information, please call (219) 942-2109 or visit our website at www.reesfuneralhomes.com.
This obituary was obtained from: http://www.legacy.com/obituaries/nwitimes/obituary.aspx?page=lifestory&pid=95252153