Hobart High School Alumni Association, Inc.
The Official Website of the HHS Alumni Association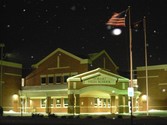 In Memory
Jarvis Roper - Class Of 1941
OBITUARY FROM NW INDIANA TIMES, NOVEMBER 22, 2007
Jarvis H. Roper, age 84, a lifetime resident of Hobart, passed away Saturday, November 17, 2007. He was born on December 24, 1922 in Hobart, IN, the son of Owen and Blanche Roper. He was a graduate of Hobart High School Class of 1941 and attended Indiana University before proudly serving his country in the U.S. Army Air Corps as a B52 Pilot. Jarvis was married to Nancy L. Davis on October 1, 1949 in East Chicago, IN. He was the former chairman of Smith Auto Group comprising of Smith Chevrolet in Hammond, IN, Smith Ford in Lowell, IN and Smith Chevy-Pontiac in Lowell, IN. Jarvis was a member of the Hobart First United Methodist Church where he served as the finance chairman, former director of Hoosier State Bank, previous director of the Hammond Y.M.C.A. and a member of East Chicago Masonic Lodge #595 in East Chicago, IN. Jarvis continued a family tradition of farming in both Lake and Porter counties. Throughout his life, he raised and bred quarter horses and spent time serving as the superintendent of the 4-H Horse and Pony Clubs in Lake County. He enjoyed fishing in Florida; and one of his greatest joys, spending time with his family and grandchildren at their Barlow Lake cottage in Michigan.
Jarvis is survived by his loving wife, Nancy Roper of Hobart, IN; daughters: Janice (Richard) Schell of Prosper, TX and Cynthia (George) Plesac of Hobart, IN; son, Timothy (Linda) Roper of Hobart, IN; grandchildren: Christopher and Ben Schell, Melissa and Jacob Plesac, and Samantha, Alison and Indy Roper; sisters: Shirley (Robert) Gradle of Potomac, MD and Phyllis Noteware of Dallas, TX; and other loving family and dear friends. He was preceded in death by his parents; sister, Marjorie Muir; and brother, Zacheus Roper.
A visitation for Jarvis Roper will be held Friday, November 23, 2007 from 2:00-4:00 and 6:00-8:00 p.m. at Rees Funeral Home, Hobart Chapel, 600 W. Old Ridge Road, Hobart, IN. A funeral service for Jarvis Roper will be held Saturday, November 24, 2007 at 10:00 a.m. at the First United Methodist Church of Hobart, 654 East 4th Street, Hobart, IN with Rev. Jonathan Gosser officiating. Interment will be at Crown Hill Cemetery. Memorials in Jarvis' memory may be made to the First United Methodist Church of Hobart or the Hobart Y.M.C.A. For further information, please call Rees Funeral Home at (219) 942-2109 or online at reesfuneralhomes.com.
This obituary was obtained from: http://www.legacy.com/obituaries/nwitimes/obituary.aspx?page=lifestory&pid=98380432