Hobart High School Alumni Association, Inc.
The Official Website of the HHS Alumni Association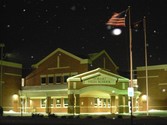 In Memory
Ben Hasza - Class Of 1941
OBITUARY FROM NW INDIANA TIMES, AUGUST 13, 2014:
Ben B. Hasza, age 92, of Hobart passed away Sunday, August 10, 2014. He was born on July 16, 1922 in Hobart, IN to the late George and Bertha Hasza. Ben was a graduate of Hobart High School, Class of 1941. He served his country in the U.S. Air Force. Ben retired from U.S. Steel after 35 years of service. He was an active member of Emmanuel Lutheran Church in Merrillville, volunteering to help with confirmation classes and Sunday school and playing on the church dartball league.
He is survived by three sons: David Hasza and Benjamin (Laura) Hasza all of Hobart and Dennis (Debra) Hasza of Hermann, MO; three daughters: Lynn (Terry Shaffner) Heintz of Crown Point, Patricia (Richard) Schreyer of The Woodlands, TX and Robin (Steve) Toneff of Hobart; 15 grandchildren: Leah (Travis) Horsch, Bryan Hasza, Annie (Joe) Maldonado, Katherine Hasza, Robin (Justin) Doran, Megan (Chris) Cruz, Kathryn (Josh) Exoo, Dennis (Jessica) Hasza, Derrick (Brandi) Hasza, Richard (Heather) Hasza, Ryan Hasza, Kristine (Joel Marquart) Hasza, Michael Hasza, Dylan Toneff and Daryl Toneff; 17 great-grandchildren: Logan, Aeson, Elle, Brody, Ty, Caleigh, Jackson, Jakob, Nathan, Ozzie, Dennis III, Josafeen, Dawson, Avery, Madison, Abigail, Jacksyn; brother Louis (Dorothy) Hasza, sister Betty Wineinger; many loving nieces and nephews. He was preceded in death by his wife, Lenore E. Hasza, 2 brothers, George and Paul Hasza, and 2 sisters, Theresa Wargo and Mary Hasza.
In lieu of flowers memorial donations are preferred to Emmanuel Lutheran Church or the Hobart Food Pantry. Funeral services are Friday, August 15, 2014 at 11 a.m. at Rees Funeral Home, 600 West Old Ridge Road. Cremation will follow with Rees Funeral Home and Cremation Service. Visitation is Thursday, August 14, 2014 from 2 p.m. to 8 p.m. at Rees Funeral Home, Hobart Chapel. Call (219) 942-2109 or visit us online at www.Reesfuneralhomes.com.
This information was obtained from: http://www.legacy.com/obituaries/nwitimes/obituary.aspx?pid=172081252.