Hobart High School Alumni Association, Inc.
The Official Website of the HHS Alumni Association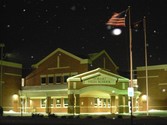 In Memory
Joseph Gresser - Class Of 1959
OBITUARY FROM REES FUNERAL HOME WEBSITE, SEPTEMBER 16, 2016:
JOSEPH C. GRESSER, age 76, of Hobart, passed away Thursday, September 15, 2016. He was born in Gary on January 17, 1940 to the late Frank and Marie Gresser. He was a graduate of Hobart High School and worked as a steelworker at Gary Tube Works division of US Steel. Joe was a member of St. Bridget Catholic Church where he also served as an usher. He will be remembered as a loving brother and uncle.
Joe is survived by his brother, Frank Gresser, Hobart;3 sisters, Sister Francis Gresser of Plainfield, IL, Barbara (Keith) Huard, Munster, and Marge Gresser, Hobart; sister-in-law, Phyllis Gresser; many nieces and nephews.
He was preceded in death by his parents, Frank and Marie Gresser and brother, Robert Gresser.
In lieu of flowers, memorial contributions are preferred to the Mantellate Sisters of Plainfield, IL, 16949 Drauden Rd., Plainfield, IL 60586.
Funeral services will be Wednesday, September 21, 2016 beginning with 9:30 a.m. prayers at Rees Funeral Home, Hobart Chapel, 600 W. Old Ridge Rd. then going in procession to St. Bridget Catholic Church for a 10:00 a.m. Mass of Christian Burial with Rev. Dominic V. Bertino officiating. Burial will follow at Calvary Cemetery. A visitation for Joe will be Tuesday, September 20, 2016 from 3:00-8:00 p.m. at Rees Funeral Home, Hobart Chapel, (219) 942-2109 or go online at www.reesfuneralhomes.com.