Hobart High School Alumni Association, Inc.
The Official Website of the HHS Alumni Association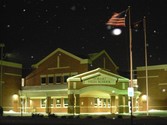 In Memory
Kurt Wignall - Class Of 1959
OBITUARY IN NW INDIANA TIMES, JANUARY 22, 2015:
Kurt Wignall, age 74, of Griffith, IN passed away Tuesday, January 20, 2015. He is survived by his wife, Claudia (nee Houk); two children: Trish (Keith) Reynolds and Scott (Brenda) Turner; eight grandchildren: Melissa (Chris) Lohmann, Kurt Edward Koepl, Jeremy (Sarah) Koepl, Holly (Mike) Coddington, Collin (Katelyn) Turner, Emma, Stuart, and Claire Turner; six great grandchildren: Steven, Zachary, Brady, Emersyn, Benjamin and Kayden; one brother, Ron (Bobbie) Wignall. Kurt was preceded in death by his two daughters: Pamela Williams and Randy Ethridge.
A memorial service will be held Friday, January 23, 2015 at 8:00 p.m. at Kuiper Funeral Home, 9039 Kleinman Road (two blocks south of Ridge Road) Highland, IN with Scott Turner officiating. Friends are invited to meet with the family Friday, January 23, 2015 from 4:00 p.m. to 8:00 p.m. (time of service). Mr. Wignall retired from Local #81 of Valparaiso, IN. He was a veteran of the U.S. Air Force and a member of the V.F.W. Men's Auxiliary Post #9982 of Griffith, IN. Mr. Wignall was also a member of A.V.M.R.A., the masonic lodge, Scottish Rite and Orak Shrine. In lieu of flowers, memorial contributions may be made in Kurt's loving memory to the family. Please visit: www.kuiperfh.com.
This information was obtained from: http://www.legacy.com/obituaries/nwitimes/obituary.aspx?pid=173929029.