Hobart High School Alumni Association, Inc.
The Official Website of the HHS Alumni Association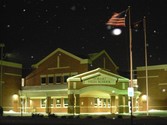 In Memory
Kathy Frost - Class Of 1972
OBITUARY PROVIDED BY CLASSMATE JANICE LEE-VIRNIG:
Kathleen Sue Frost passed from this life on March 28, 2018 of liver cancer at her home in Tampa, Florida. She had just turned 64. Kathy retired in 2012 after a long career in IT, most recently as a Software Analyst for FIS/Certegy. She earned a BA in Business from the University of South Florida and an AAS from Purdue University NW. She had planned on spending her retirement years driving a motor home seeing the country with her beloved rescue dogs. She loved dachshunds in particular and was a foster and rescue mom for many doxies over the years. She was a big supporter of GetALong Dachshund Rescue. Kathy also volunteered at Sunset Hospice, visiting patients with her most recent rescue, Sadie Mae.
She was strongly committed to her faith in God. She has been reunited with her parents and her sister Dianne, class of 1974, who passed before her. She is survived by a step-brother John Rupert, her brother-in-law, Brent Cutler, class of 1972, and by two nephews, a niece, and cousins.
The friendships Kathy made while attending Hobart schools lasted into her retirement years. She was sweet, giving, and generous and will be greatly missed by her family and friends. She left us far too soon. We all were so looking forward to seeing that motor home pull into our driveways.