Hobart High School Alumni Association, Inc.
The Official Website of the HHS Alumni Association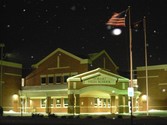 In Memory
Monica Lynn Stephens (Gabriel) - Class Of 1993
FROM MONICA'S MOTHER:
Monica graduated from Purdue West Lafayette in 1998 with a degree in Industrial Technology. She worked at USS Until 2005 completing her MBA from Indiana Wesleyan. She married Chuck Gabriel in 2003. They continued living in Hobart. She worked for NIPSCO until her death in 2006 from ovarian cancer. She is greatly missed and thought of everyday. Lynn Stephens.
OBITUARY FROM NW INDIANA TIMES, OCTOBER 20, 2006:
Monica Lynn Gabriel, age 32, of Hobart, passed away Thursday, October 19, 2006 in her home. Monica was a lifelong Hobart resident and a 1993 Hobart High School graduate. She was a graduate of Purdue University, West Lafayette, in 1998 with her Bachelors Degree in Industrial Technology and her M.B.A.from Indiana Wesleyan University in 2004. Monica was employed at U.S. Steel as a South Sheet Mill foreman from 1998 -2005. She was currently employed by NIPSCO at the Bailey Generating Station as a Maintenance Supervisor.
She is survived by her loving husband, Charles Gabriel, parents, Lynnette "Lynn" Stephens and Richard "Rick" Stephens and brother, Richard (Terri) Stephens, all of Hobart, father-in-law, Vincent (Ladonna) Gabriel, brother-in-law,Vince (Missi) Gabriel, aunts, uncles and many cousins. Beloved pets: Hershey and Kahlua. She was preceded in death by her maternal grandparents, Thomas and Dorothy Cook and paternal grandparents, Harold and Mary Stephens.
Family requests that donations be given to Hobart Humane Society, Hospice of the Calumet Area or American Cancer Society. Funeral service will be private. Family and friends may gather for visitation on Saturday, October 21,2006 from 1:30 to 8:00 pm at Rees Funeral Home, 600 W. Old Ridge Road, Hobart. Cremation will follow at Calvary Crematory in Portage. For information, call Rees Funeral Home, Hobart Chapel, 219-942-2109. www.reesfuneralhomes.com.
This information was obtained from: http://www.legacy.com/obituaries/nwitimes/obituary.aspx?page=lifestory&pid=19645199.