Hobart High School Alumni Association, Inc.
The Official Website of the HHS Alumni Association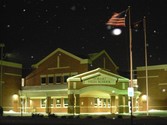 In Memory
Clarabelle Loggie (Kostbade) - Class Of 1943
OBITUARY FROM REES FUNERAL HOME WEBSITE, JUNE 20, 2014:
Clarabelle "Clara" Kostbade (nee Loggie) Age 88, a lifelong resident of Hobart, IN passed away June 20, 2014 after battling a lingering illness. She was born June 29, 1925 in Gary, Indiana to late Thomas and Beulah Loggie. She was a homemaker who took pride in raising her sons, and received joy in seeing her grandchildren, great grandchildren and great great grandchild. She was a member of the First United Methodist Church in Hobart, Indiana.
She is survived by 2 sons, Robert (Lynn) Kostbade, Gary (Christine) Kostbade. Seven grandchildren, Natalie Shapiro, Kelly (Dave) Barrasas, Robert (Christine) Kostbade, David (Holli) Kostbade, Gary R. Kostbade, Colin R. Kostbade and Thomas C. Kostbade and seventeen great grandchildren Jordan (Mitch Kujawski), Samantha, Jacob and Nicholas Farber, Taylor, Michael, and Luke Shapiro; Erin Elizabeth, Jack, Zachary, Olivia and Ryan Barrasas; Peyton, Cole and Cash Kostbade, and David Kostbade, 1 great great grandchild, Landon Robert Kujawski, many nieces and nephews and her 18th great grandchild is due in November 2014. Clara is also survived by her sister, Mary (Herbert) Jones, and brothers, James (Sara) Loggie, and Richard (Terry) Loggie. Clara was preceded in death by her husband of 70 years and love of her life, Robert D. Kostbade, her parents Thomas and Beulah Loggie, Brother William (Thelma) Loggie and two infant sons, Michael and Kent.
Memorial donations may be made to VNA Hospice of Porter County or to the family.
Funeral services are Monday, June 23, 2014 at 11 a.m. at Rees Funeral Home, 600 West Old Ridge Road, Hobart with Rev. Rebecca L. Smith officiating. Burial will follow at Graceland Cemetery, Valparaiso. Visitation is Sunday, June 22, 2014 from 2 p.m. to 8 p.m. at Rees Funeral Home, Hobart Chapel. Call (219) 942-2109 or visit us online at www.Reesfuneralhomes.com.
This information was obtained from: http://www.reesfuneralhomes.com/mobile/obituaries-details.cfm?o_id=2574143&fh_id=12324&forcelayout=mobile#obituaries.