Hobart High School Alumni Association, Inc.
The Official Website of the HHS Alumni Association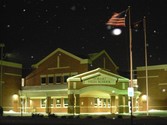 In Memory
William (Bill) Hess - Class Of 1955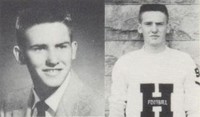 OBITUARY FROM THE NW INDIANA TIMES, MARCH 8, 2017:
William L. Hess, 80 of Protem, MO, passed away Tuesday, February 28, 2017. Bill was born October 31, 1936 in Francesville, IN, the son of Lorah P. and Myrtle M. (Griggs) Hess. Bill was a 1955 graduate of Hobart High School. He started working at US Steel Sheet & Tin as a pipefitter apprentice and retired in 1987 as a supervisor after 31-1/2 years. He served in the US Army and received awards as a sharpshooter and expert, then continued with trap and skeet shooting. He retired and moved to Bull Shoals Lake. He loved to fish in his Ranger Bass Boat, golf and traveling, especially out West and was the unofficial tour guide of Branson, MO.
His greatest joys were being with and teasing his family and friends. On April 21, 1956 he married Carol A. Skudlark, who survives in Protem, MO. Also surviving is his son Willian G. Hess, daughter Diana C. (Chris) Flener; two grandchildren: Eli D. and Olivia R. Hess; great grandson, Kingston T. Hess; sister, Betty Jane O'Hearn and brother David A. Hess. He was preceded in death by his parents; three brothers: Melvin Delos, L.J. (Red) and Donald E. Hess and sister Dorothy L. Gallegos.
Visitation will be held Friday, March 10, 2017, 3:00 - 7:00 PM at Bartholomew Funeral Home, 102 Monroe St, Valparaiso. Funeral Services will be held Saturday, March 11, 2017 at 11:00 AM at Bartholomew Funeral Home, Fr. Chris Stanishofficiating. Burial will be in Graceland Cemetery, Valparaiso. bartholomewnewhard.com
This information was obtained from: http://www.legacy.com/obituaries/nwitimes/obituary.aspx?pid=184398442. The pictures were obtained from the 1955 HHS Memories Yearbook, made available by the Lake County Public Library, at: https://archive.org/stream/HOHS1955Images/