Hobart High School Alumni Association, Inc.
The Official Website of the HHS Alumni Association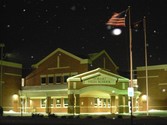 In Memory
Ruth Joliff (Chaney) - Class Of 1941
OBITUARY FROM NW INDIANA TIMES, MARCH 12, 2005:
Ruth E. Chaney (nee Jolliff), age 81 of Hobart, passed away Friday, March 11, 2005. Ruth had been a longtime resident of Hobart and was a Hobart High School graduate. She was a sales clerk at Goldblatt's, the Trunk and Henry's and was a volunteer for St. Mary Medical Center Auxiliary with over 2000 hours of service. Ruth was a member of the VFW Post #5365 Auxiliary.
Ruth is survived by her husband, Melvin of 42 years of marriage; four children: Sharon Allendorf-Kish of DeMotte, Cheryl Allendorf-Shepitka of Hobart, Jayme Allendorf-Rudd of Sarasota, FL and Melvin E. Chaney II of California; 13 grandchildren; seven great-grandchildren; many nieces and nephews. Preceded in death by parents, Bertha and Logan Jolliff; two sisters: MaryEllen and Eleanor; three brothers: Louie, Laverne "Lab" and Logan "Bud".
Memorials are preferred to the VNA Hospice of Porter County. St. Mary Medical Center Auxiliary Service Sunday at 3:00 p.m. VFW Auxiliary Service Sunday at 7:00 p.m. Funeral service Monday, March 14, 2005 at 11:00 a.m. from Rees Funeral Home, 600 W. Old Ridge Road, Hobart. Chaplain Jim Stoel officiating. Burial Graceland Cemetery. Visitation Sunday from 2:00-9:00 p.m. at Rees Funeral Home, Hobart.
This information was obtained from: http://www.legacy.com/obituaries/nwitimes/obituary.aspx?n=Ruth-Chaney&pid=3276887