Hobart High School Alumni Association, Inc.
The Official Website of the HHS Alumni Association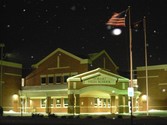 In Memory
Carolyn Kramer (Thompson) - Class Of 1941
OBITUARY FROM POST-TRIBUNE, APRIL 25, 2011:
Thompson, Carolyn E. Age 87, of Hobart, passed away Saturday, April 23, 2011, while surrounded by her loving family. Carolyn was born on September 8, 1923 to Myrtle and Louis Kramer and was a 1941 graduate of Hobart High School. Carolyn married Harold Thompson August 29, 1942. She was a faithful member of Trinity Lutheran Church where she was involved with the Ladies Aid, LWML, Sewing Circle and Mothers Circle. Carolyn volunteered many hours with the St. Mary Medical Center Auxiliary Pink Ladies. She will be remembered as a loving mother and grandmother and will be missed dearly.
She is survived by her 2 sons, Dr. Harold E. (Sue) Thompson, Jr. of Hobart and Bill Thompson of Tucson, AZ; 5 grandchildren, Scott (Michelle) Thompson of Mattawan, MI, Dr. Brian (Dr. Corinne) Thompson of Schererville, Robert M. (Megan) Thompson of Tucson, AZ, Dr. Lisa M. Thompson of Denver, CO; and U.S. Army Major Sarah E. (Hussain Alsoltani) Thompson; 8 great grandchildren; other loving family and friends. She was preceded in death by her husband, Harold; her parents; and 2 sisters, Lou Ann Hudspeth and Doris King.
Memorial donations in Carolyn's honor may be made to the Trinity Lutheran Church Debt Reduction Fund. A funeral service for Carolyn will be Tuesday, April 26, 2011 at 11:00 a.m. at Trinity Lutheran Church in the Chapel, 900 Luther Dr., Hobart, with Rev. Gary S. Nagy officiating. Burial will follow at Hobart Cemetery. Visitation will be just prior to the service from 10:00 a.m. to 11:00 a.m. at Trinity Lutheran Church in the Chapel. Rees Funeral Home handling arrangements, (219) 942-2109 or online at www.reesfuneralhomes.com.
This information was obtained from: http://legacy.post-trib.com/obituaries/posttribune/obituary.aspx?page=lifestory&pid=150559207.