Hobart High School Alumni Association, Inc.
The Official Website of the HHS Alumni Association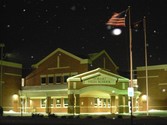 In Memory
Louis Popp - Class Of 1941
OBITUARY FROM NW INDIANA TIMES, APRIL 21, 2010:
Louis E. Popp, Sr., age 87 of Hobart, passed away peacefully April 19, 2010 at home surrounded by his loving children. He was born on April 14, 1923 to Frank and Christina Popp of Hobart. Mr. Popp was the former owner of Brite Janitorial Service, original owner of the Li'l Red Barn in Hobart and retired from the City of Hobart. Louis was a Hobart High School graduate and a member of St. Bridget Catholic Church. He was a Staff Sergeant and Ammunition Technician stationed in the Asiatic Pacific Theater (Guam) during WWII. Louis was decorated with the American Theater Ribbon, Good Conduct Medal, World War II Victory Medal and served from 1943-1946 at which time he came home to meet and marry his beloved wife of 60 years, Shirley Kasarda. He was a member of the Hobart American Legion Post 54 and the Hobart VFWPost 5365. Louis enjoyed being outdoors in his garden, cooking and baking. He adored his children, grandchildren and great grandchildren, and insisted on having Sunday dinner at home every week to be with them.
Louis was preceded in death by his loving wife, Shirley Popp; daughter, Patricia Zieseniss; parents: Christina and Frank Popp; two sisters: Wilhemina Popp and Anita Rouschlange; and brother, Leonard Popp. He is survived by two sons: Louis (Fay) Popp, Jr. of Chesterton and Lance (April) Popp of Hobart; four daughters: Lori (Bill) O'Malley of Henderson, NV, Helen (Monte) Blane of Hobart, Lene (Gary) Behrens of Porter and Laine Kasarda of Valparaiso; and many grandchildren and great grandchildren.
A Funeral Mass will be held Friday, April 23, 2010 at 10:00 a.m. at St. Bridget Catholic Church in Hobart with Fr. Dominic Bertino officiating. Prayers will begin at the funeral home at 9:30 a.m. Friends are invited to meet with the family on Thursday from 2:00-8:00 p.m. at the Kraft Funeral Services and Crematory, 370 N. County Line Road, Hobart, IN. The Popp family is honored by the Indiana Patriot Guard followed by the American Legion service to be held Thursday at 7:00 p.m. In lieu of flowers, donations may be made to the Adam Benjamin VA Clinic in Crown Point.
This information was obtained from: http://www.legacy.com/obituaries/nwitimes/obituary.aspx?n=Louis-Popp&pid=142044796.