Hobart High School Alumni Association, Inc.
The Official Website of the HHS Alumni Association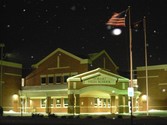 In Memory
Lester Cornett - Class Of 1941
OBITUARY FROM POST-TRIBUNE, OCTOBER 15, 2008:
LESTER CORNETT Valparaiso, Indiana Formerly Hobart Age 85, passed away Tuesday, October 14, 2008 at Porter Hospital. He was born April 6, 1923 in Gary, IN, the son of Archibald & Florence (Ponder) Cornett and was raised by his aunt & uncle, Hazel & Bradley Ponder. Lester graduated from Hobart High School, served with the U.S. Army during World War II in the Philippines, Australia, New Guinea and Japan and then worked as a carpenter for Carpenters Local #1005 for over 40 years. He was an active member of Hobart First Church of the Nazarene where had served in numerous and varied capacities and served as a volunteer for the Porter Memorial Hospital Guild with his wife. On October 25, 1946 he married Marion Lois McKnight, who preceded him in death in 2006.
Survivors include their 5 children: Theresa "Terri" Hardt of Valparaiso, Cathy Cornett of Houston, TX, Ron (Theresa) Cornett of Houston, TX, Cindy (Terry) Barton of Huntington, IN, Shirlee (Dave) Reeves of Huntington, IN; sister, Betty (Jack) Blossom of Chesterton; 14 grandchildren, 13 great grandchildren and 1 great-great granddaughter. He was also preceded in death by 1 grandson, David Hardt-Robuck; son-in-law, Charles Hardt; 7 brothers, Delbert, Earl, Elmer & Virgil Cornett, Clarence, William & Everett Truett and 1 sister, Ethelyene Hershey.
A funeral service will be held Thursday 11:00 AM at Hobart First Church of the Nazarene, Rev. Gerald Walworth officiating with burial to follow at Graceland Cemetery, Valparaiso. Visitation Wednesday 4 - 8 PM at Moeller Funeral Home, 104 Roosevelt Rd., Valparaiso. Memorials may be made to the VNA of Porter County or Porter Hospital Guild. MoellerFuneral Home.com
This information was obtained from: http://legacy.post-trib.com/obituaries/posttribune/obituary.aspx?n=Lester-Cornett&pid=118849321