Hobart High School Alumni Association, Inc.
The Official Website of the HHS Alumni Association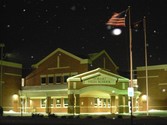 In Memory
Dottie Leavell (Demmon (Teacher))
OBITUARY FROM NW INDIANA TIMES, FEBRUARY 29, 2004:
Dottie (Leavell) Demmon, 75, of Hobart, passed away Sunday, February 22, 2004. Dottie had been a resident of Hobart from 1950 until her retirement in 1986, whereupon she and her husband, Bill, relocated initially to Brownsville, Texas and eventually Brunswick, GA. Dottie was a graduate of Indiana University-Bloomington with a degree in Education. She also earned a Master's degree from Valparaiso University. For a number of years, Dottie taught high school English at Lowell High School and Hobart High School. In the later half of her career, she served as a social worker at Gary Wirt High School. Dottie was affiliated with the United Methodist Church of Hobart.
She was preceded in death by her husband of 49 years, William M. Demmon, Sr. She is survived by her five children, Susan (Jerry) Bartlett of Laurel, MD; William (Jill) M. Demmon, Jr. of St. Charles, IL; Diane (Homayoon) Mortazavi of Highland, MD; Kathleen (Jeff) Belitsky of Sterling, MA; Tricia (Brad) Kale of Geneva, IL; and 13 grandchildren.
A memorial service for Mr. and Mrs. Demmon will be held at Arlington National Cemetery at a later date. Contributions in her memory may be made to the Alzheimer's Association, 225 N. Michigan Ave., Chicago, IL 60601-7633
This information was obtained from: http://www.legacy.com/obituaries/nwitimes/obituary.aspx?n=Dottie-Demmon&pid=1980643