Hobart High School Alumni Association, Inc.
The Official Website of the HHS Alumni Association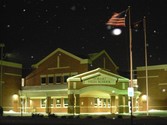 In Memory
Alfred Spriester (Teacher)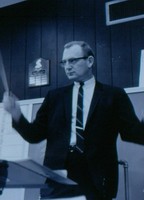 OBITUARY SUPPLIED BY PAM (SPRIESTER) BELL:
Alfred Edward Spriester passed away February 19, 2019 at the home of his son Bart Spriester (Mary) and family of Duluth, GA. Alfred was born November 15, 1929 in Kansas City, KS to Fred Spriester (sbach) and Lillian Antionette (Muller). His musical career began at the age of 5 and became a professional trumpeter before graduating from Wyandotte High School, Kansas City, KS. He attended Graceland College for two years before studying trumpet under Renold O. Schilke and music arranging under Glenn Cliffe Bainum at Northwestern University, Willmette, Il. He received a Masters of Music Education from Northwestern and was a charter member of Theta Delta Chi fraternity at the University.
In 1951, he married fellow Northwestern University graduate Dorothy Zarbock and played lead trumpet for three years in the 5th Army Band headquartered at Fort Sheridan. He began teaching at Hobart Jr. High, Hobart, IN before becoming the first music instructor at Dist. 113, Deerfield, Illinois. While at DHS he taught music theory, directed Freshman, Concert, Jazz Bands along with producing and directing the annual broadway musical production from 1961 – 1987 and taking the band across the country. For many years he was a member of the Northshore Community Band, Evanston, IL and taught private trumpet lessons. In 1970, Al was the first conductor of the Deerfield Community Concert Band which he conducted for 17 years. His legacy is the students he inspired, lives he impacted and fond memories made through the many musical opportunities he created and directed.
He is survived by the families of his 2 sons Ron (Sharon), Bart (Mary) and 4 daughters Pam (Paul Bell), Sandy (Carl Markowitz), Laurie (Russ Davis), and Terri along with 11 grandchildren. A Memorial Service celebrating his life was held Saturday, April 14, 2012 at Zion Lutheran Church, 10 Deerfield Rd., Deerfield, Il. Life well spent Students called him 'Big Al' and he always said conducting was not a democracy. He taught discipline to excellence, exacting the best from each student while imparting the joy of creating music. Humble in nature, well-loved as a teacher, he never sought accolades or praise for his talents or embrace the impact he left on so many lives. His legacy lies in the inspiration, pride, and musical family created under his leadership and the musicians and music educators who are now creating their own legacies.