Hobart High School Alumni Association, Inc.
The Official Website of the HHS Alumni Association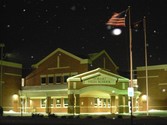 In Memory
Raymond Dommer - Class Of 1941
OBITUARY FROM REES FUNERAL HOME WEBSITE, JUNE 18, 2013:
Raymond E. Dommer, age 92 of Hobart passed away Sunday, June 16, 2013. He was born on May 15, 1921 in Lansing, Kansas to the late Benjamin and Lillian Dommer. He played in the first game ever played in Brickie Bowl and was a graduate of Hobart High School class of 1941. Raymond served his country in the U.S. Army during WWII. He retired from U.S. Steel from the Sheet and Tin Mill in 1985. Raymond was a member of Grace Evangelical Lutheran Church. He enjoyed watching sports and was a Cubs fan.
He is survived by his wife, Jeanine Dommer of Hobart, IN; 1 son, Gregory (Donna) Dommer of Hobart, IN; 2 daughters, Marianne (Michael) Scott of Carmel, IN; Deborah (Myron) Deviney of Toledo, OH; 2 sisters, Shirley Dommer of Portage, IN; Esther Pendergrast of Hobart, IN; 5 grandchildren, and 3 great-grandchildren. He was preceded in death by 1 daughter, Sheree Grimble, 1 brother, Herbert Dommer, and 2 sisters, Grace Vensel, and Ruth Dwyer. Memorial donations in Raymond' s honor may be made to VNA Hospice of Porter County, 2401 Valley Drive , Valparaiso, Indiana 46383
Funeral services are Thursday, June 20, 2013 at 11 a.m. at Grace Evangelical Lutheran Church, 6240 Grand Blvd., Hobart with Rev. Frederic Lams officiating. Burial will follow at Calumet Park Cemetery, Merrillville. Visitation is Wednesday, June 19, 2013 from 2 p.m. to 4 p.m. and 6 p.m. to 8 p.m. at Rees Funeral Home, 600 West Old Ridge Road, Hobart. Call (219) 942-2109 or visit us online at www.Reesfuneralhomes.com.
This information was obtained from: http://www.meaningfulfunerals.net/fh/obituaries/obituary.cfm?o_id=2126512&fh_id=12324.