Hobart High School Alumni Association, Inc.
The Official Website of the HHS Alumni Association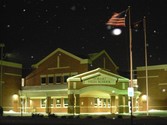 In Memory
Helen Cliff (Talmadge) - Class Of 1927
OBITUARY INFORMATION PROVIDED BY KEITH TALMADGE, SON:
Deceased Classmate: Helen Cliff
Date Of Birth: Aug-27-1909
Date Deceased: June-2008
Age at Death: 98
Cause of Death: Cardiac Arrest
Classmate City: Ocala
Classmate State: FL
Classmate Country: USA
Was a Veteran: No
Survived By: Sons, Allan Talmadge, class of 1948 and Keith Talmadge, class of 1951

Helen Cliff (Talmadge) was a member of The Flue Dust Society in High School and developed a strong interest in writing poetry. She published a number of poems in the Gary Post Tribune and Hobart Gazette while in high school. She later published around three hundred poems in a variety of magazines. Also, she competed in a number of competitions where she was usually runner-up. When she was in her sixties, she began writing children's stories and published in Pockets Magazine. She began writing historical novels in her seventies which were never accepted for publication. Her literary agent died before she completed her last novel and she stopped writing. She was remarkable in that a rejection slip never deterred her from submitting her work to another publisher. She viewed things through rose colored glasses and did not care to hear anything bad about someone else.