Hobart High School Alumni Association, Inc.
The Official Website of the HHS Alumni Association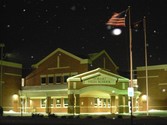 In Memory
Delos Roland "Del" Brooks - Class Of 1941
OBIRUARY FROM REES FUNERAL HOME WEBSITE, FEBRUARY 10, 2015:
DELOS ROLAND BROOKS "DEL", age 92, went to be with the Lord on February 9, 2015. He was born on October 8, 1922, in Hobart. He is survived by his wife of 69 years, Mildred Price Brooks; 2 sons, Kenneth (Carol) Brooks of Otterbein, IN and Dr. Leslie (Jerry) Brooks of Carmel, IN; 1 daughter, Cynthia (Timothy) Beckett of Westville, IN; 11 grandchildren and 14 great grandchildren. He was preceded in death by his father, Rollin E. Brooks, mother, Margaret Blanchard Simmons, step mother, Aileen Brooks, 2 brothers, Leslie and Robert Brooks and sister, Ilene Brooks.
Del lived most of his life in Hobart, graduating from Hobart High School in 1941. He was a track star known for his white track shoes and played football for Hobart, participating in the first game held in a brand new Brickie Bowl in 1939. He attended Brickie football games until well into his 80's. He served his country in the army during WWII as a tech sergeant in A Company 809th Tank Destroyer Battalion. Del worked in the Body Shop at McAnary Ford in Gary for over 40 years. He loved to fish and enjoyed many trips to Canada to catch them. He was a voracious reader and an expert on the Civil War. He was forever taking pictures and taught himself to develop photos. He was a wonderful Ba-Pa to his grandchildren and will not be forgotten.
In lieu of flowers, please make donations to the charities of one's choice.
A memorial service will be Sunday, February 15, 2015 at 2:00 p.m. at Rees Funeral Home, Hobart Chapel, 600 W. Old Ridge Rd., with visitation just prior from 1:00 until time of service. Cremation will be completed with Rees Funeral Home and Cremation services. For information please call (219) 942-2109 or go online at www.reesfuneralhomes.com to extend online condolences.
This information was obtained from: http://www.meaningfulfunerals.net/fh/obituaries/obituary.cfm?o_id=2955615&fh_id=12324.