Hobart High School Alumni Association, Inc.
The Official Website of the HHS Alumni Association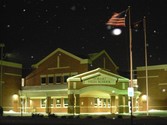 In Memory
Larry Marquardt (Teacher)
OBITUARY FROM NW INDIANA TIMES, JUNE 18, 2014:
Larry A. Marquardt, age 67, of Valparaiso, IN passed away on Sunday, June 15, 2014. He was born on December 25, 1946 in Gary, IN to Adrian and Pearl (Hill) Marquardt, who preceded him in death. He was married to Maryann (Lee) Marquardt, who survives of Valparaiso, IN. He is also survived by his step-son, Michael McBride of Portage, IN; step-daughter, Deborah Ann (John) Blumer of Porter, IN; brother, Glenn Marquardt of Seattle, WA; sister, Lois (Michael) Addison of Valparaiso, IN, step-grandchildren: Jarret, Justin and Kelsey McBride and Ashley, Kyle and Abigayle Blumer; step great-granddaughter, Matilda; nieces: Erin (Ryan) Edgren and Cara Addison; nephew, Mark Addison and great nephews, Reece and Grant Edgren
Larry owned and operated "Get Away Tours & Cruises" for 25 years. He enjoyed skiing and was past president of the Gary Ski Club and a member of the National Ski Patrol. He was a former teacher at Hobart High School and was currently employed as a charter bus driver for Royal Excursions in Mishawaka, IN.
Funeral services for Larry will be held on Friday, June 20, 2014 at 11:00 am at Edmonds & Evans Funeral Home, 517 Broadway, Chesterton, IN 46304 with Pastor Bob Burton officiating. Burial will follow at Calumet Park Cemetery in Merrillville, IN. Visitation will be held Thursday, June 19, 2014 from 2:00 p.m. until 8:00 p.m. Memorial contributions may be made to: American Diabetes Association , 1701 North Beauregard Street, Alexandria, VA 22311. Online condolences to the family may be left at www.ee-fh.com.
This information was obtained from: http://www.legacy.com/obituaries/nwitimes/obituary.aspx?pid=171390477.