Hobart High School Alumni Association, Inc.
The Official Website of the HHS Alumni Association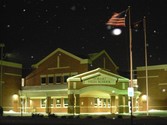 In Memory
Patricia Gulban - Class Of 1948
OBITUARY FROM NW INDIANA TIMES, JULY 9, 2014:
Patricia A. Gulban, age 84, a longtime Hobart resident, passed away July 3, 2014. She spent all of her career working in Chicago as a secretary. Pat enjoyed dining out with friends.
She is preceded in death by her parents: Dan and Ann Gulban. She is survived by her special cousin: Sue (Tom) Zimmerman of Hobart; special friend: Heather (Brett) Welsch of Chesterton; cousins: Rosemary Garcher of Indianapolis, Bill Gulban of MD, and Danny Dudak of OH; several other family members.
Funeral service Friday, July 11, 2014 at 7:00 p.m. at Burns Funeral Home, 701 E. 7th St., Hobart. Friends are invited to meet with Pat's family on Friday from 3:00 p.m. until the time of service www.burnsfuneral.com.
This information was obtained from: http://www.legacy.com/obituaries/nwitimes/obituary.aspx?pid=171656981.