Hobart High School Alumni Association, Inc.
The Official Website of the HHS Alumni Association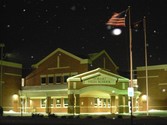 In Memory
Herbert "Buster" Ellenberger - Class Of 1942
OBITUARY FROM REES FUNERAL HOME WEBSITE, OCTOBER 20, 2014:
Herbert H. "Buster" Ellenberger, age 91 of Hobart passed away Sunday, October 19, 2014. He was born on February 16, 1923 in Hobart, Indiana to the late Nevin and Blanche Ellenberger. He graduated from Hobart High School and went on to serve his country in the U.S. Navy. He retired from U.S. Steel where he had worked as a Motor Inspector. Herbert was a member of the Hobart First Christian Church and the Hobart American Legion Post 54.
He is survived by four sons, William (Janet) Ellenberger of Lake Station, IN; Robert (Laura) Ellenberger of Hobart, IN; John (Rhonda) Ellenberger of Mentone, IN; Jim Ellenberger of Hobart, IN; two daughters, Rachel (William) Nicoloff of Hobart, IN; Becky Kopper of Hobart, IN; 16 grandchildren and many great-grandchildren. He was preceded in death by his wife, Dorothy Ellenberger, one brother, John Clark Ellenberger, two sisters, Vera Curran and Violet Johnston, and 3 infant great-grandchildren.
In lieu of flowers memorial donations are preferred to the Hobart Fire Department.
Public visitation is Thursday, October 23, 2014 from 10 a.m. to 12 p.m. at Rees Funeral Home, 600 West Old Ridge Road, Hobart. Funeral services will be private. Burial will be at Graceland Cemetery. Call (219) 942-2109 or visit us online at www.Reesfuneralhomes.com.
This information was obtained from: http://www.meaningfulfunerals.net/fh/obituaries/obituary.cfm?o_id=2751517&fh_id=12324.