Hobart High School Alumni Association, Inc.
The Official Website of the HHS Alumni Association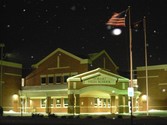 In Memory
Violet Galich (Prusinski) - Class Of 1941
OBITUARY FROM NW INDIANA TIMES, OCTOBER 26, 2014:
Violet L. Prusinski, age 90, passed away on Monday, October 20, 2014. Violet was born on December 13, 1923 in Gary, IN to John and Mary (Sasak) Galich.
She is survived by her sister, Catherine Lenburg; children: Patricia Abramson, Leo (Carol) Prusinski, Mark Prusinski, Diane(Greg) Kil; 11 grandchildren; eight great grandchildren; and numerous nieces and nephews. She is preceded in death by her parents; husband, Leo of 39 years; brother, Anton Galich; granddaughter, Carolyn Tomsich; and devoted friend of 20 years Alex Gavaller.
Violet developed her strong work ethic at a very young age working on the family farm in Hobart. Violet was in charge of loading and driving the truck filled with the farms raised produce to the Gary Market where she set up her section and sell all she had and bringing the money back to her mother at 12 years of age. She lived through the depression and knew the value of a dollar. Violet graduated from Hobart High School and Beauty School in Gary. At age 19 she was a business woman opening Clip and Curl Beauty Shop in downtown Hobart. Violet would meet Leo G. Prusinski at the Camp store on Deep River on Liverpool Road where the family had a store. Leo and Violet would wed in 1945 and embark on over 40 years of running a family grocery business as Lee`s Foods on 20th. and Delaware in Gary and N. B. Foods in Tolleston in Gary and Lee`s Foods in Black Oak district of Gary. After caring for her husband Leo at home for nine years and his subsequent death Violet embarked in the retail clothing business working for Fashion Bug in Hobart. Violet retired finally at the age of 80. Violet was an active early member of St. Joseph the Worker Church in Gary and Linden House in Hobart. Fishing, gardening, and crafts were her hobbies, but her passion was being in business and interacting with people.
A Mass to celebrate Violets life will be held Saturday, November 1, 2014 at 10:00 a.m. CST. at Assumption BVM Church 3530 Illinois St. New Chicago, IN. Interment will follow at Calumet Park Cemetery in Merrillville. Rees Funeral Home, Hobart Chapel assisted with arrangements. The families deepest thanks are extended to the wonderful staff at Golden Living Center, Fountainview of Portage and VNA Hospice of Porter County. In lieu of flowers, memorial contributions may be made to VNA Hospice of Porter County 2401 Valley Dr. Valparaiso, IN 46383. Online condolences may be submitted at www.reesfuneralhomes.com.
This information was obtained from: http://www.legacy.com/obituaries/nwitimes/obituary.aspx?pid=172943264.